Boston Logan Airport Parking Guide
Welcome to our Boston Logan Airport parking guide! We know travel can be stressful and airports can be confusing to navigate. That's why we put together this informational guide as you prepare for your departure from BOS. Here you can read about parking rates, airline information, food and shopping options, and nearby accommodations.











Boston Logan Parking Rates
Parking Options
Parking Rates
Terminal Parking Garages
Central Garage
Terminal B
Terminal E lot

1 hour: $8.00
1-2 hours: $21.00
2-3 hours: $26.00
3-4 hours: $30.00
4-7 hours: $34.00
7-24 hours: $38.00
1 Day & 0-6 hours: $57.00
1 Day & 6-24 hours: $76.00
Each additional day: $38.00

Economy Parking Garage
1 hour: $8.00
1-2 hours: $20.00
2-3 hours: $22.00
3-4 hours: $25.00
4-24 hours: $29.00
1 Day & 0-6 hours: $44.00
1 Day & 6-24 hours: $58.00
Each additional day: $29.00

Boston Logan International has a few parking options available to travelers. Their daily rates start at $29 per day for the economy garage and $38 per day for terminal parking. For economy parking, BOS airport has a free shuttle bus service to all terminals. With terminal parking, travelers can reach their desired terminal through the pedestrian bridges.
Compare all Boston airport parking providers
Although parking at Boston Logan may be convenient, the daily rates are expensive. It can also be confusing with how their pricing is set up, without a clear daily rate between 1 and 2 days. Boston official airport parking can also be unreliable. Official parking doesn't allow you to reserve a parking spot and if the economy lot is full, you may be unexpectedly paying a higher daily rate to park in one of the terminal garages.
We created Parkos to give travelers a more relaxed experience and affordable Boston airport parking options. We work with offsite parking operators and hotels to offer better parking at a better price. With our partners, you can reserve a parking spot online and get free shuttle transportation to and from BOS. As you search and compare the options listed on our website, you can find the provider that fits your needs and wishes.
BOS Terminal Map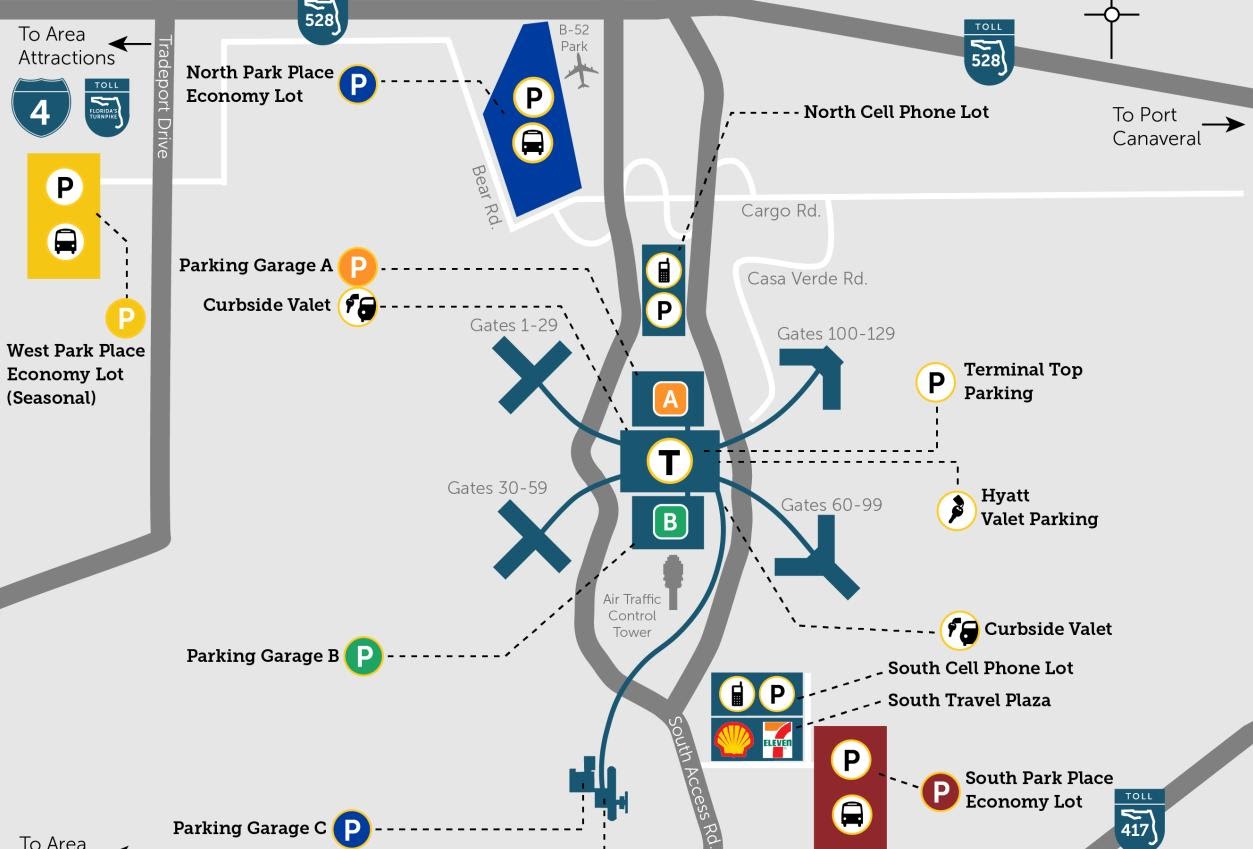 The following information about the airlines at Boston Logan Airport only applies to their departing terminals. This information may be subject to change and we suggest travelers check with their airline, or look on their boarding pass to determine the correct terminal.
Terminal A; Delta and WestJet
Terminal B; Air Canada, Alaska Airlines, American Airlines, Boutique Air, Southwest, Spirit, and United
Terminal C; Aer Lingus, Cape Air, JetBlue, and TAP Air Portugal
Terminal E; Air France, Alitalia, Azores Airlines (SATA), British Airways, Cabo Verde Airlines, Cathay Pacific, Copa Airlines, El Al, Emirates, Frontier, Hainan Airlines, Hawaiian Airlines, Iberia, Icelandair, Japan Airlines, KLM, Korean Air, LATAM, Level, Lufthansa, Norwegian, Porter, Qatar Airways, Royal Air Maroc, Scandinavian Airlines, Sun Country Airlines, Swiss, Turkish Airlines, and Virgin Atlantic
Getting to Boston Logan International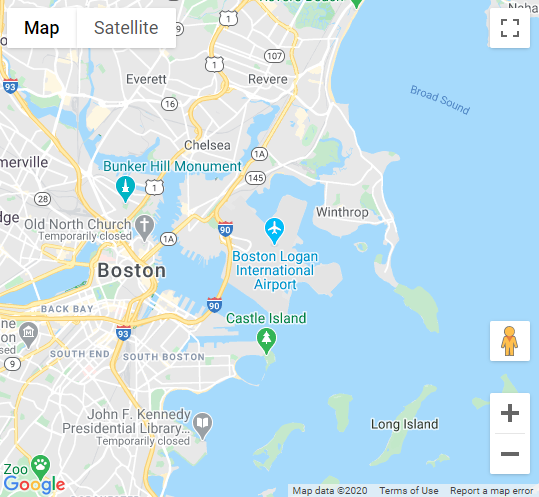 BOS Airport has a great location, allowing travelers to access the terminals using a number of different methods. If you're driving, you can enter 'Boston Logan International Airport' into your GPS or use our free route planner. There are also public transportation options if you don't want to drive and park at the airport.
One public transportation option includes the Logan Express bus service. The bus terminals and parking lots are located in Back Bay, Braintree, Framingham, Woburn, and Peabody. From one of these stations, you can reach the lower levels of the BOS terminals. However, if you need to drive to the bus station, it will cost $7 per day for parking and the bus trip takes approximately 30 to 45 minutes.
Another option is the MBTA, which is the most environmentally friendly. The direction you are coming from will determine which Line you need to take to reach Boston Airport. You may also need to transfer lines to get to your final destination. Once you get off the subway, you will need to take one of the Massport shuttle buses to reach your terminal.
There are plenty of options for getting to Boston Logan, however, not all of them are fast or convenient. Search your options and see which one works best for you.
Airport FAQS
The Boston Logan Airport is open 24 hours a day, however the TSA checkpoints vary in hours. The checkpoints for Terminals A, B, and C open at 4:00 AM and Terminal E checkpoints open at 4:30 AM.
Massport recommends arriving two hours prior to departure for domestic flights and three hours prior to departure for international flights. Planning ahead and arriving early gives you plenty of extra time in case there are delays due to severe weather conditions or traffic.