Low-cost parking at Buffalo Niagara International Airport
Buffalo Niagara International Airport (BUF) is located in Cheektowaga, New York, approximately 11 miles from the magnificent Niagara Falls. North Buffalo Suburban Airport (OGO) is located 18 miles away, while Buffalo-Lancaster Regional Airport (BQR) is a short 7.8 miles journey. BUF parking offers the best services and conveniences for your car. Parkos can help you find cheap and safe Buffalo airport parking rates.
Parking at Buffalo Niagara International Airport is costly and sometimes challenging. However, off-airport parking is the best way to find low-cost airport parking. Additionally, Parkos offers a variety of off-airport parking options starting at $4.00 per day. BUF airport parking can help you save money on a tight budget. The table below compares the various parking options at Parkos.
Prices are correct at the time of writing (July 2022).
The best Buffalo Niagara International airport parking rates
Buffalo Airport parking rates vary depending on several factors. The airport offers three parking options: Long term parking, Preferred Parking, and Economy lots. Hourly prices at the long-term parking garage range from $1.00-$72.00. Other parking garages charge $1.00-$50.00.
Parking at BUF is $4.00 for the first hour and up to $23.00 per day. Buffalo airport's long-term parking is stressful and expensive, but short-term parking is not cost-effective for extended stays.
Off-site/long-term parking fees at the airport range from $1/day to $52.5/week. Off-site parking may be further from the airport than Buffalo airport short-term parking. As a result, Parkos offers a shuttle service to avoid any inconvenience.
During the high season (July - September) parking prices tend to be higher due to high demand.
Buffalo Niagara International airport cheap long-term parking
It's usually a good idea to search for airport parking options at BUF. Long-term Buffalo International (BUF) parking is available at the Economy Lot. Compare Parkos' long-term parking prices and parking alternatives to the rates paid for on-site parking. The Economy Lot costs $9 per day and $50 per week. Parking rates were obtained from the official website of Buffalo Niagara International Airport.
On-airport Economy parking with shuttle
Parking at buffalo airport is the most cost-effective option. There is a free shuttle service from Economy parking.
| Daily rate | From |
| --- | --- |
| 3 days | $33.00 |
| 8 days | $88.00 |
| 15 days | $165.00 |
Off-airport Cheap Long Term Parking with shuttle
Self-parking at BUF Airport allows you to park yourself. Buffalo Airport's long-term parking will cost $10.00 per day.
| Daily rate | From |
| --- | --- |
| 3 days | $18.00 - |
| 8 days | $48.00 - |
| 15 days | $90.00 - |
Off-airport Cheap Long Term Parking with valet and shuttle
Buffalo airport parking rates vary for valet service parking. A free shuttle will drive you to the airport.
| Daily rate | From |
| --- | --- |
| 3 days | Coming soon |
| 8 days | Coming soon |
| 15 days | Coming soon |
Off-airport Cheap Long Term Hotel parking
If Buffalo Niagara airport parking is not an option, some hotels and motels near Buffalo Niagara International Airport provide long-term parking. Parking packages are provided at these hotels, which include the Hilton Garden Inn Buffalo Airport, Courtyard by Marriott Buffalo, and Aloft Buffalo Airport. These hotels allow you to park your car overnight and catch a free shuttle to the airport the next day.
| Daily rate | From |
| --- | --- |
| 3 days | Coming soon |
| 8 days | Coming soon |
| 15 days | Coming soon |
Buffalo Niagara International airport Cheap short term parking
Short-term parking lots are available. BUF charges $4.00 for the first two hours of parking and can charge up to $23.00 per day. Payments can be made to the cashier as you exit the parking lot. The table below shows the details of how buffalo NY airport parking rates for short-term parking compare.
| | |
| --- | --- |
| First 30 minutes | - |
| Each additional 30 minutes | - |
| Daily rates | $11.00 |
Buffalo Niagara International airport Smart parking tips
Are you having trouble moving around? Is your car's battery dead, or are you dropping someone off? Read the following parking tips to help you navigate the airport. Remember to read airport long-term parking customer reviews as well. Looking for the best routes to get to the airport parking? Please see our travel directions.
Restricted mobility parking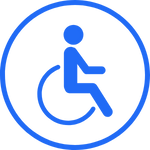 BUF has a number of amenities to help you relax and travel comfortably. The airport's on-site hotel has a fitness center, a pool, and a yoga room. And all parking facilities at BUF have accessible parking spaces. However, there are no parking discounts available.
Cell Phone Lots (drop-off & pick-up) at Buffalo Niagara International airport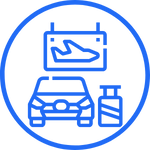 BUF provides numerous convenient options for passengers to drop off and pick up. There is a cell phone lot about a mile from the main terminal. While parked in this lot, you should constantly monitor your vehicle. Usually, it is used while waiting to pick up someone.
Electric Vehicle Charging Stations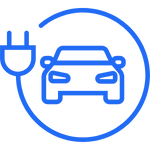 The electric vehicle charging stations are free on Level 1, Section F-2 of the Buffalo International Airport Daily/Hourly Parking Facility. There are three charging stations in the area to charge your electric car. Besides, charging is free.
Parkos provides high-quality, secure, and affordable parking. Furthermore, ensuring that your travels are stress-free.
Parking providers at Buffalo Niagara International Airport
Our benefits
All parking facilities are carefully inspected
The best deals on airport parking
Free cancellation up until 24 hours
4M+ customers globally