Find the cheapest parking at Milwaukee Mitchell International Airport
Milwaukee Mitchell International Airport is a civil-military airport. It is 5.75 miles south of downtown Milwaukee, Wisconsin. The other two nearest airports are Madison (MSN) and Chicago O'Hare (ORD), each nearly 74 miles away. Official parking at Milwaukee Airport is readily available, but Parkos.com offers cheaper and more convenient Milwaukee Airport parking options..
Use private off-airport parking lots to get cheap parking at Milwaukee Airport. At Parkos.com, daily fares round to very reasonable prices alongside cool amenities and hassle-free online reservations. Value weekly packages provide you long-term parking at Milwaukee Airport as well. The different fares are listed below, along with the transfer time required for reaching the airport and the type of service available for each.
Prices are correct at the time of writing (July 2022).
Save big on Milwaukee Mitchell International airport parking rates
As with most airports, parking at Milwaukee Airport can be pricey. Milwaukee Airport parking rates vary depending on your distance to the airport, where you stay, and of course the duration of your stay.
Short-term parking comes at hourly & daily parking lots. Rates start at $2/hour and go up to $24/day ($14 for a daily lot). Surface and rail(Amtrak) lots also offer parking near Milwaukee Airport. These are just minutes away from the terminals.
Off-site parking starts at $15 a day for the surface parking lot. However, Amtrak passengers can use it at just $8/day, making for cheap parking at Milwaukee Airport. Note that tickets will be checked.
During the high season (July - September) parking prices tend to be higher due to high demand.
Milwaukee Mitchell International airport low-cost long-term parking
It's a good idea to compare the various parking rates in advance. All rates start at $2/hr and go up to $25/day (for valet parking). For economy airport parking in Milwaukee, there is the saver lot at just $8/day. You can visit the official website and compare the various parking options at MKE Airport.
On-airport Economy parking with shuttle
The saver lot offers very affordable Milwaukee Airport parking rates. Besides, a free shuttle drops you at the terminal.
| Daily rate | From |
| --- | --- |
| 3 days | $24.00 |
| 8 days | $64.00 |
| 15 days | $120.00 |
Off-airport Long Term Parking with shuttle
To cut Milwaukee airport parking costs, choose self-parking at Milwaukee Airport. A free shuttle will transport you to the terminal.
| Daily rate | From |
| --- | --- |
| 3 days | $17.25 - |
| 8 days | $46.00 - |
| 15 days | $86.25 - |
Off-Airport Long Term Parking with valet and shuttle
Milwaukee Airport parking fees are higher for valet service. Still, a free shuttle will drop you at the terminal.
| Daily rate | From |
| --- | --- |
| 3 days | Coming soon |
| 8 days | Coming soon |
| 15 days | Coming soon |
Off-Airport Long Term Hotel parking
Multiple nearby hotels & motels provide parking options for Milwaukee Airport. The leading providers are Crowne Plaza Milwaukee Airport, Best Western Plus, and Four Points by Sheraton. Crowne Plaza offers best value parking at $43.75 per week. But Best Western Plus provides Milwaukee Airport economy parking with its most affordable pricing at just [] per week. Typically, you can take a free shuttle to the airport.
| Daily rate | From |
| --- | --- |
| 3 days | Coming soon |
| 8 days | Coming soon |
| 15 days | Coming soon |
Milwaukee Mitchell International airport affordable short-term parking
MKE airport offers 2 on-site parking options for its main terminal with 3 concourses. The hourly lot is on the 3rd & 4th floor (RED area). Its pricing starts at $2 hourly. For more than a few hours or overnight parking at Milwaukee Airport, the daily parking lot is the better choice, at just $14 for a day. Also, it is available on all floors.
| | |
| --- | --- |
| First 30 minutes | $2.00 |
| Each additional 30 minutes | - |
| Daily rates | $14.00 |
Milwaukee Mitchell International airport smart parking tips
Need help with charging your electric vehicle? Got to pick up someone? Looking for restricted mobility options? The following tips will come in handy. Also, do read our Milwaukee Airport parking reviews from our satisfied customers. Looking for the best routes to get to the airport parking? Please see our travel directions.
Restricted mobility parking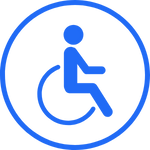 The airport offers disabled-designated spaces in both hourly & daily lots. The rate is $2/hour, with the first 30 minutes free in the hourly lot. Spaces are enclosed and air-conditioned, with elevator access. The airport also offers Smart Park rewards for booking parking via its app.
Cell Phone Lots (drop-off & pick-up) at Milwaukee Mitchell International airport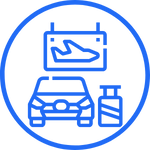 The cell phone lot is in the surface parking lot. Immediately south of the main parking structure, it is within a walking distance from the terminal. You can also use the hourly parking lot where the first 30 minutes are free.
Electric Vehicle Charging Stations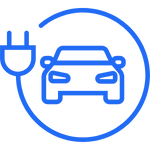 In the daily & saver parking lots, ChargePoint charging stations are available. The charging fee is $5/charge. Also, the regular parking rates apply. In the daily lot, you can charge on the 3rd level. The saver lot has charging stations slightly east of the main entrance.
Parkos' mission is to provide access to safe & economical airport parking all over the USA.
Other customers rate our parking partners with an average of 5
Parked from 11/11/23 to 11/20/23
We will definitely use this parking service again. It is a very well run business. The experience was smooth and efficient from signing up on line, confirmation, check in at the front desk, and transport to and from the airport. The hotel is just a few minutes away from the airport and we were dropped off and picked up right at the terminal / baggage claim. The driver was amazing- very friendly and helpful.
...Read more
Parking providers at Milwaukee Mitchell International Airport
Our benefits
All parking facilities are carefully inspected
The best deals on airport parking
Free cancellation up until 24 hours
4M+ customers globally