Jacksonville Airport parking map
Save Big on parking at Jacksonville Airport
Jacksonville International Airport is a civil and military public airport located in Duval County, Florida, 13 miles (21 km) north of Downtown Jacksonville. The Jacksonville Aviation Authority owns and runs it. Orlando International Airport (MCO) and Savannah Hilton Head International Airport (SAV) are closest to Jacksonville. Parkos offers a wide range of pricing for Jacksonville airport parking. Additionally, Parkos is an alternative for long-term JAX airport parking.
There are several options for getting from the airport to Jacksonville and other destinations, including the Express Shuttle minibus service. Jacksonville Airport parking rates start at $12 per day. However, if you choose Parkos, the cost will reduce to $4.99 per day. You can find the comparison of fares for different services below.
Prices are correct at the time of writing (July 2022).
Find the best parking rates at Jacksonville airport
Self-parking, valet parking, and outdoor parking are all available at Jacksonville airport parking. Jacksonville's airport parking rates are usually higher than off-site parking lots. You can find the complete list of parking rates on the official airport website.
Hourly parking or daily parking at JAX will cost you $2 per hour and, for a day, $16 and $12, respectively. The most affordable daily JAX airport parking choice is Economy lot 3, which costs $5 daily.
Using long-term parking offered by the official airport will cost you $35 in Economy Lot 3, $42 in Economy Lot 1 and 2, $77 in a daily surface lot, $126 in the daily garage, and $154 for Valet parking.
During the high season (July - September) parking prices tend to be higher due to high demand.
Jacksonville airport cheap long-term parking
If you compare the parking options at Jacksonville with Parkos parking lots, you will find out that the rates at Parkos are significantly lower. The daily rate for parking with Parkos is $4.99. Even if you use Valet Parking, the rate is the same. However, at the official airport parking, it will cost you between $5 and $16 depending on the parking lot.
On-airport Cheap Economy parking with shuttle
Jacksonville airport economy parking lots have a free shuttle service that runs every 15 minutes.
| Daily rate | From |
| --- | --- |
| 3 days | $24.00 |
| 8 days | $64.00 |
| 15 days | $120.00 |
Off-airport Cheap Long Term Parking with shuttle
A free shuttle will take you to the airport terminal when you book self-parking at Jacksonville airport with Parkos.
| Daily rate | From |
| --- | --- |
| 3 days | $14.97 - |
| 8 days | $39.92 - |
| 15 days | $74.85 - |
Off-airport Cheap Long Term Parking with valet and shuttle
With Valet parking at Parkos, a valet will park your car while you can take the shuttle to the airport.
| Daily rate | From |
| --- | --- |
| 3 days | $14.97 - |
| 8 days | $39.92 - |
| 15 days | $74.85 - |
Off-airport Cheap Long Term Hotel parking
A few hotels near Jacksonville airport offer parking services. Some hotels that provide parking services are the Quality Inn Airport, Comfort Inn Suites Chantilly, Hampton Inn & Suites Jacksonville-Airport, and the Microtel Inn & Suites by Wyndham Jacksonville Airport. These hotels often have a free shuttle service to the airport that runs at regular intervals.
| Daily rate | From |
| --- | --- |
| 3 days | Coming soon |
| 8 days | Coming soon |
| 15 days | Coming soon |
Jacksonville airport cheap short term parking
The Jacksonville Airport offers hourly and daily parking near the terminals that are best for short-term parking. The Hourly and Daily Parking Garages are located directly in front of each domestic terminal. Hourly parking costs $2 every 30 minutes and increases to $16 for a full day. The daily parking also costs $2 every 30 minutes, and the maximum daily amount is $12.
| | |
| --- | --- |
| First 30 minutes | $2.00 |
| Each additional 30 minutes | $2.00 |
| Daily rates | $8.00 |
Jacksonville airport Smart parking tips
Will you require assistance to charge your electric vehicle? Do you need to pick someone up, or do you have disability or mobility problems? If you do, Please check the suggestions below.
Restricted mobility parking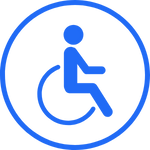 There are special parking spaces for disability permit holders in all garages and parking lots. According to Florida state law, vehicles with Florida toll exemption permits do not have to pay public parking charges. These toll exemption permits are issued to persons with mobility restrictions.
Cell Phone Lots (drop-off & pick-up) at Jacksonville airport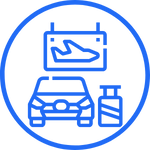 New cell phone lots have opened in Jacksonville airport. As you approach the terminal, this lot is located just beyond the Jacksonville Aviation Authority (JAA) Administration Building. There is a two-hour parking limit, and drivers must always remain in their vehicles while waiting.
Electric Vehicle Charging Stations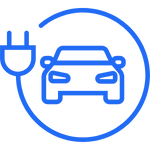 There are electric car charging stations at three locations at Jacksonville airport: Daily Surface Lot, the Hourly Garage, and the Cell Phone Waiting Lot. It is a complimentary service, but standard parking rates apply when parking in these spaces.
Parkos is the number 1 website where you can compare and book your airport parking space safely and cheaply.
Jacksonville Airport parking map
Our benefits
All parking facilities are carefully inspected
The best deals on airport parking
Free cancellation up until 24 hours
4M+ customers globally