Albuquerque International Sunport parking map
Huge deals on parking at Albuquerque International Sunport
Albuquerque International Sunport (ABQ) is New Mexico's largest commercial airport located approximately 3 miles (11.27 km) from Albuquerque's city center. Other nearby major airports serving New Mexico include Santa Fe Municipal Airport (SAF) and Roswell Air Center (ROW). Albuquerque Airport Parking offers the best services and top-quality amenities to make your traveling comfortable. You can use Parkos to locate budget-friendly airport parking in Albuquerque off-airport lots.
Cheap parking at Albuquerque International Sunport parking rates start at 10-minutes of free parking, then $2.00 for 20 minutes, $4.00 for one hour, $5.00 for 3 hours, and $6.00 for additional 3 hours. Albuquerque airport's long-term parking rates start at $2.99/day to $12/day. These parking options are available in the Parking Garage, the Basic Economy lot, and the Premium Economy lot.
Prices are correct at the time of writing (July 2022).
The lowest airport parking rates at Albuquerque International
ABQ offers 10 minutes of free Parking. After 10 minutes, rates of $1.00/3 hours apply. Premium Economy Lots have a rate of $9.00/day. Basic Economy lots charge $7/day. The parking garage has a long-term parking rate of $12.00/day.
Short-term parking fees start at $2.00 from the 10-minuted free parking — 30 minutes. From 30 minutes — 1 hour, you are charged $4.00. Parking for 3 hours costs $5.00. When looking for discounted rates, you can use Albuquerque airport parking coupons.
ABQ long-term parking daily rates range between $2.99 to $12.00 per day. Park and shuttle airport parking in Albuquerque is also cheap with costs starting at $5.99/day. A free shuttle service is available 24/7.
During the high season (July - September) parking prices tend to be higher due to high demand.
Albuquerque International airport's affordable long-term parking
It's always a good idea to compare parking rates at ABQ. Look at the comparisons between ABQ long-term parking rates and parking options at Parkos to those charged for on-site parking at ABQ Airport. The Economy Lots have a max daily rate of $9.00. The Albuquerque airport parking rates were retrieved from the Airport's official website.
On-airport Economy parking with shuttle
Economy parking with a free bus service is available at ABQ. A complimentary shuttle service is available for your convenience.
| Daily rate | From |
| --- | --- |
| 3 days | $21.00 |
| 8 days | $56.00 |
| 15 days | $105.00 |
Off-Airport Long Term Parking with shuttle
Self-parking at ABQ allows you to park yourself. If you intend to use this service, free shuttles are always available.
| Daily rate | From |
| --- | --- |
| 3 days | $7.32 - |
| 8 days | $19.52 - |
| 15 days | $36.6 - |
Off-Airport Long Term Parking with valet and shuttle
ABQ also offers valet service parking. A free shuttle will drive you to the airport if you're using this service.
| Daily rate | From |
| --- | --- |
| 3 days | Coming soon |
| 8 days | Coming soon |
| 15 days | Coming soon |
Off-Airport Long Term Hotel parking
Albuquerque International Sunport has several nearby hotels that offer parking spots. Sleep Inn Airport, La Quinta, and Best Western Albuquerque Airport InnSuites hotels offer great parking deals for overnight parking and long-term parking options. Additionally, they offer top-quality amenities to their guests which include a complimentary airport shuttle service to and from the airport and fitness centers.
| Daily rate | From |
| --- | --- |
| 3 days | Coming soon |
| 8 days | Coming soon |
| 15 days | Coming soon |
Albuquerque International airport's low-cost short term parking
ABQ short-term parking spaces are available in the Garage, Premium Economy Lot, and Basic Economy Lot. Parking fees start at $2.00 from 10-30 minutes, $4.00 from 30 minutes to 1 hour, $5.00 from 1 hour to 3 hours, and $6.00 from 3 hours to 6 hours. The maximum daily rate for the garage is $12.
| | |
| --- | --- |
| First 30 minutes | $2.00 |
| Each additional 30 minutes | $4.00 |
| Daily rates | $12.00 |
Albuquerque International airport smart parking tips
Are you having restricted mobility? Is your car running out of charge, or are you dropping off somebody? Make sure you read the following parking tips to help you know your way around the airport. Also, don't forget to read airport long-term parking customer reviews.
Restricted mobility parking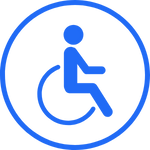 ABQ offers free parking for 24 hours to those with a disabled veteran's plate or placards. After 24 hours, daily rates of $9.00 apply. The accessible lots are located on all four levels of the garage adjacent to the ABQ terminal. Self-pay terminals are used.
Cell Phone Lots (drop-off & pick-up) at Newark airport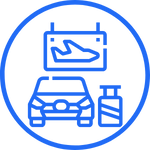 Albuquerque International Sunport offers free Cell Phone Lots and waiting areas for use by the public. They are located at 2200 Sunport Blvd.2200, just next to the Spirit Drive terminal. Drivers wishing to drop off or pick up their guests should not leave the car unattended.
Electric Vehicle Charging Stations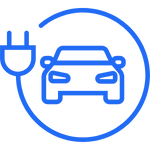 Albuquerque International Sunport does not have Electric Vehicle charging power stations. However, there are several charging stations close to the airport. Albuquerque Supercharger is the top-rated station located at 2600 Menaul Blvd. Parking is free and the charging fee is $0.25/kWh.
Parkos offers top-quality, secure, and affordable parking, that helps you stick to your traveling budget.
Albuquerque International Sunport parking map
Our benefits
All parking facilities are carefully inspected
The best deals on airport parking
Free cancellation up until 24 hours
4M+ customers globally