Find the Cheapest parking at Norfolk International Airport
Equipped as an international airport, Norfolk actually serves domestic routes. Mainly, it serves as a small hub commercial airport. In case you're looking to visit the airport sometime, you must know about the Norfolk airport parking options. However, long term parking Norfolk airport is available only as off-airport parking. The parking garage is privately owned. That said, Parkos can help you with your parking needs at discounted rates.
Norfolk International airport cheapest parking rates
Short-term parking rates at the airport can be divided into hourly and daily options. The two cost $1 per half hour each. There are daily limits set at $24 and $11, respectively. Luckily, all airport parking is accessible within a short walking distance of the terminals. Online reservations for on-site parking are available for your convenience. So, passengers may choose to pre-book parking spaces. However, long term parking at Norfolk airport is not very economical. For instance, off-airport parking rentals start at just $27.65 per week. Econo Lodge currently offers the best value off-site parking, for as low as $3.95/day when you get the weekly option. Parkos lets you conveniently book the same for a better airport experience on your next journey.
During the high season (July - September) parking prices tend to be higher due to high demand.
Norfolk International airport Cheap long-term parking
Comparing parking lot rates at ORF is a breeze with Parkos. Indeed, if you're planning to use the airport, you can refer to the pricing listed on our website. You can tally the off-airport prices and parking options at ORF vs those charged for on-airport ORF parking. Besides, the airport website lets you look up the official parking lot prices.
On-airport Economy parking with shuttle
Economy parking is the ideal solution for long-term airport parking. With free bus service to and from the airport, it's easy to get to your gate without dealing with the hassle of driving and finding a place to park.
| Daily rate | From |
| --- | --- |
| 3 days | $33.00 |
| 8 days | $88.00 |
| 15 days | $165.00 |
Off-airport Cheap Long Term Parking with shuttle
Norfolk's self parking is the most convenient way to park at the airport. You can choose your own spot, and a free shuttle will take you right to the terminal.
| Daily rate | From |
| --- | --- |
| 3 days | $11.85 - |
| 8 days | $31.60 - |
| 15 days | $59.25 - |
Off-airport Cheap Long Term Parking with valet and shuttle
With valet service parking at Norfolk, you can relax and enjoy your trip knowing that your car is being taken care of. A free shuttle will drive you to the airport, and you can rest assured that your car will be parked in a safe and secure spot.
| Daily rate | From |
| --- | --- |
| 3 days | Coming soon |
| 8 days | Coming soon |
| 15 days | Coming soon |
Off-airport Cheap Long Term Hotel parking
Near ORF airport there is a variety of long-term parking options at nearby hotels and motels. Most establishments provide a free shuttle to the airport, so you can avoid the hassle and expense of parking at the airport.
| Daily rate | From |
| --- | --- |
| 3 days | Coming soon |
| 8 days | Coming soon |
| 15 days | Coming soon |
Norfolk International airport Cheap short term parking
Hourly parking comes at $1 on a half-hour basis. And it is available only in Garage A. Also charged at $1 per half-hour, daily parking is accessible across Garages A, B, C, and D. Parking is also available at the Daily East surface lot. But the two caps at a daily limit of $24 and $11, respectively. Furthermore, both options are within walking distance of the terminals.
| | |
| --- | --- |
| First 30 minutes | $1.00 |
| Each additional 30 minutes | $5.25 |
| Daily rates | $11.00 |
Norfolk International Smart airport parking tips
Need a charging station for your electric vehicle at the airport? Looking for a waiting area to pick up incoming passengers? Need access to restricted mobility options? Well, the following amenities will help. And do read what our customers have to say about the airport long term parking. Looking for the best routes to get to the airport parking? Please see our travel directions.
Restricted mobility parking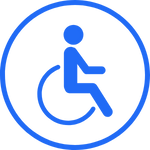 Access ramps for wheelchair transport are located at both hourly and daily parking garages flanking the airport terminal. Disabled persons can park free of charge for the first four hours in the hourly parking lots only. Prevailing rates will apply afterwards. The loyalty program offers a 5% cashback.
Cell Phone Lots (drop-off & pick-up) at Norfolk International airport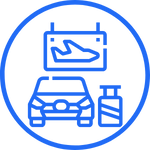 There is a cell phone waiting area for customers who have to pick up arriving passengers at the airport. Parking here is free. There are no minimum and maximum wait times. However, owners should attend to their vehicles at all times. Drivers must stay in their vehicles until they receive a call.
Electric Vehicle Charging Stations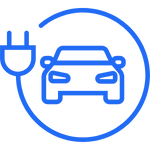 Norfolk airport provides a secure and hassle-free experience when it comes to restoring electric transport. Customers with electric cars need not worry. Free EV charging stations can be accessed at Level 1 of Garage A, Level 2 of Garage C, ground level and Level 3 of Garage D.
Other customers rate our parking partners with an average of 3.3
Parked from 8/16/23 to 8/21/23
It was raining, I had to stand outside & ring a bell for assistance, the attendant didn't speak English very well, and until I actually 'booked' the parking, was led to believe there'd be a free shuttle. The attendant couldn't even help with #'s for taxi co. Won't book there again.
...Read more
Parked from 8/7/23 to 8/11/23
I was told there was no shuttle associated with my parking reservation so I spent just as much catching an Uber as I paid for the parking. I would have a little bit not per day to have shuttle service included.
Our benefits
All parking facilities are carefully inspected
The best deals on airport parking
Free cancellation up until 24 hours
4M+ customers globally