Nashville International Airport parking map
Cheap parking at Nashville International Airport
Nashville International Airport (BNA) is located in Nashville, Tennessee. It is a mixed-use airport for the military and members of the public. The highly convenient Nashville airport parking - BNA service found on Parkos.com starting at $4.95 per day enables you to conveniently leave your car behind as you fly away. Neighboring airports like Memphis (MEM) and Charlotte (CLT) are closest to Nashville airport.
Cheap parking at Nashville airport has proved to be attractive to passengers over the years. Airport parking rates starting at $16 per day for the economy BNA lot are highly affordable. This low Nashville airport parking cost ranks among the most affordable anywhere. Parkos always aims at providing affordable parking for customers as an alternative to the prevailing expensive airport parking.
Prices are correct at the time of writing (July 2022).
Nashville International airport parking rates
Valet parking at Nashville international airport parking rates starts at $36 per day, while terminal garage parking costs $26. Comparatively, BNA terminal lot parking costs $18 per day, with the economy lot going for $16.
Airport parking Nashville TN offers short-term terminal parking from $26 per day. The parking services include proximity to the terminal, a park-assist guidance system, charging stations for electric vehicles, on-foot pay kiosks, and tire inflation points.
Nashville airport parking rates for off-site or long-term positions away from the terminal area are from $16 per day. The parking lots located further away enjoy shuttle services. You will also get handy charging points for your electric vehicles.
During the high season (July - September) parking prices tend to be higher due to high demand.
Nashville International airport long-term parking
Nashville Tennessee Airport parking provides you with several options. You will notice that you save money with the Parkos parking options.at (BNA) with spaces starting from below $10 per day. On-site, BNA economy parking costs $16. These costs are, therefore, much lower with Parkos. For more information, check out the official airport website.
On-site Economy parking with shuttle
You enjoy a free bus service with economy parking at Nashville airport. This comes with Nashville airport long-term parking.
| Daily rate | From |
| --- | --- |
| 3 days | $48.00 |
| 8 days | $128.00 |
| 15 days | $240.00 |
Off-site Long Term Parking with shuttle
Parking rates Nashville airport: self-parking at Nashville airport comes with a free shuttle service to the airport terminal
| Daily rate | From |
| --- | --- |
| 3 days | $14.85 - |
| 8 days | $39.60 - |
| 15 days | $74.25 - |
Off-Site Long Term Parking with valet and shuttle
The parking provider will park your car for you. A free shuttle will drive you to the airport.
| Daily rate | From |
| --- | --- |
| 3 days | Coming soon |
| 8 days | Coming soon |
| 15 days | Coming soon |
Off-Site Long Term Hotel parking
There are many hotels and motels near Nashville airport that offer parking services. In most cases, they provide free shuttle services to the airport. The hotels include Avid, Best Western, Cambria, and Comfort Suites. They provide convenient services, especially when you only require short-term parking. These hotels are also on Parkos and provide highly affordable services.
| Daily rate | From |
| --- | --- |
| 3 days | Coming soon |
| 8 days | Coming soon |
| 15 days | Coming soon |
Nashville International airport short term parking
You will easily spot the short-term garages located right opposite the terminal. They are located in a southward direction. These terminals will set you back between $26 and $36 daily for non-valet and valet parking. Their proximity to the airport makes it convenient for you to walk into the terminal without any problems.
| | |
| --- | --- |
| First 30 minutes | - |
| Each additional 30 minutes | - |
| Daily rates | $26.00 |
Nashville International airport parking tips
Check for the electric vehicle charging points available. If you need to pick up somebody, hire a car at the nearest car rental facility. Check for discounts for people with restricted mobility.
Restricted mobility parking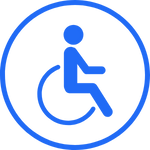 There are discounts offered for those with restricted mobility. They can park in areas close to the airport at a discounted cost. The airport amenities enable easy access. Parking discounts are as high as $20% of the standard charges.
Cell Phone Lots (drop-off & pick-up) at Nashville International airport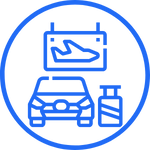 There are two cell-phone waiting lots at Nashville airport. Drivers waiting to pick up passengers There are monitors in these lots with real-time information on incoming flights. These waiting lots are close to the airport just before you enter economy lot C.
Electric Vehicle Charging Stations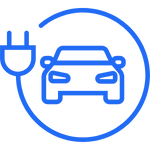 At Nashville airport, you will find the stations for electric vehicle charging at the two garages next to the airport. There are also charging stations in the other parking lots. It costs about $6 to get a full charge for your vehicle.
Parkos provides high-quality security to make airport parking safe all over the USA.
Nashville International Airport parking map
Other customers rate our parking partners with an average of 4.6
Parked from 3/16/23 to 3/19/23
SUMMARY: Excellent! DETAILS: First time using a hotel parking/shuttle service since moving back to TN. Radisson airport parking is in the main paved hotel lot, which is great. I specify because some other hotels have grass lots for their airport parking service, which could suck
...Read more
Parked from 5/19/23 to 5/23/23
I hate to leave such a fabulous review because then the word will get out that this is the easiest and most accommodating place to park your vehicle when flying out of Nashville. The driver suggested where to park and then drove around to
...Read more
Parking providers at Nashville International Airport
Frequently Asked Questions
How does Shuttle parking work at Nashville International Airport?
How does Valet Parking work at Nashville International Airport?
Our benefits
All parking lots are carefully inspected
The best deals on airport parking
Free cancellation up until 24 hours
Over 3 million customers globally