Be one of the 500.000 customers that already made a reservation at JFK Airport.
What makes Parkos unique?
All parking lots are carefully inspected
Free cancellation up until 24 hours before departure
How can we help you?
Our experts are here to assist you with comparing car parks and are happy to answer any questions you may have.
Please contact us
Customers rate Parkos with an average of 8.6
Customers who have booked a parking space through us, rate these with an average of 8.6/10 based on 355 reviews.
Jeffrey Tuesday 20 August 2019
Were received well and quickly taken to the airport. Nice that the staff parked our car for us.
Anonymous Tuesday 20 August 2019
Straightforward website, booking was quick and easy!
JFK Airport Parking
For those seeking an alternative to expensive ride sharing apps and unreliable public transportation, Parkos is your solution. Parkos provides an overview of affordable and reliable parking options near JFK International Airport. After you've tailored your search and found an option that matches your search criteria, you can make a reservation right away on our website. When you book via Parkos you will be guaranteed the lowest prices and you will rest assured that your spot will be honored.
John F. Kennedy International Airport, formerly known as Idlewild Airport and New York international Airport, is the most important airport in New York. It is located in Long Island, 30 kilometers from Manhattan. In 2017, this airport had around 30.000.000 passengers making it one of the most important airports in the US. John F. Kennedy airport has 6 terminals, and 128 gates.
The airport has multiple parking lots for both short term and long term parking. Every parking lot belongs to a different airport terminal and has its own color. This creates an overview that is easy to follow. It is possible to make a reservation online, however, you will pay much more compared to the options listed on Parkos.
Since flying is becoming more accessible, multiple entrepreneurs have decided to offer alternative parking options. Even though these parking options are not located at the airport, they are super close to JFK International Airport. Our role is to provide you with transparent and accessible options when looking for airport parking. That is why we provide detailed descriptions of the parking facilities including location, method of transportation to and from the airport, and availability among other details.
Parking reservations - The most current information for JFK Airport
| | |
| --- | --- |
| Number of car parks: | 3 car parks |
| Best rated: | JFK DISCOUNT PARKING |
| Cheapest: | Parking 4 Airport |
| Closest to airport: | JFK DISCOUNT PARKING |
Affordable parking near JFK Airport
Nobody wants to pay too much for parking at the airport. That is precisely why Parkos collaborates with different parking providers near JFK International Airport. But how are these parking providers able to offer low prices? This is because parking providers have low overhead expenses. This allows them to offer affordable rates while providing excellent and professional premium parking services.

Location: All the parkings are located nearby the airport. This means that the travel time from the parking lot to the airport terminal is never longer than 15 minutes by shuttle transportation. We want to offer a smooth transition from parking to JFK International Airport that is why we work with collaborators who are located conveniently close to the airport. It is our company guarantee that prices on Parkos will always be cheaper than self park daily rates at the airport's parking lot.

Quality: Parkings are forced to maintain a standard of quality as the age of social media has taught us that a bad review can make or break a company. Furthermore, to distinguish themselves, the parkings often offer extra services. Perks like car wash services or electric vehicle charging stations make the parking experience a lot better.

Review: We strive to make the booking experience as easy as possible for everyone. That is why we value customer feedback, we want to get to know about your experience. We actively encourage customers to leave reviews.
Shuttle and Valet Parking at John F. Kennedy Airport
On our website, you will always see the terms shuttle and valet parking to describe the transportation services from our parking providers. Here we will give you information over both options.
Shuttle Parking - JFK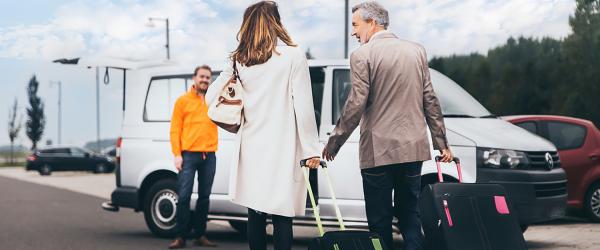 Our parking providers offer two options for parking; shuttle or valet parking. If the provider offers shuttle parking, this means you will drive directly to the parking location and self park. This option helps you avoid driving through the traffic at the departure terminals. After parking your car, at the lot, our providers will take you by shuttle bus and transport you to your terminal. Our providers will also offer luggage assistance. Because you booked with us online. the provider will know when you are coming and have the shuttle ready for you. Of course, it is a complimentary shuttle. You can also decide if you want a provider where you leave your keys with them or take them with you. When you return from your trip, you will call the parking provider upon your arrival at JFK. They will pick you up at the arrivals terminal and take you back to your car. Making it a quick, easy transition to and from the airport. The shuttles run when you are scheduled to travel to and from the airport, which ensures you will always be able to take the shuttle on time. Do you have any questions about shuttle parking or parking in general with Parkos? Take a look at our frequently asked questions. frequently asked questions.
Valet Parking - JFK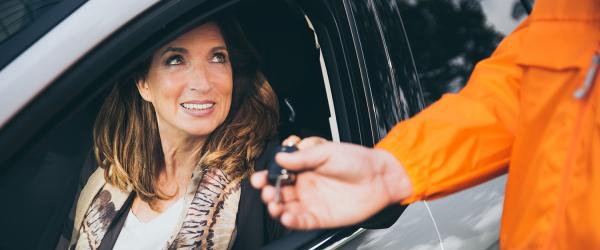 Valet Parking at JFK gives you more comfort and ease. With valet parking, you drive your car to JFK and drop it off at a specified location (which you can find in the parking instructions on your confirmation email). Your confirmation email will also give the phone number of the parking provider as well as other important information for parking. An employee from the parking provider will be waiting for you, ready to take your car to their lot. Valet parking makes it easier for you so you won't have to drive to the parking location yourself, and you can instead go straight to the airport, saving you time. On the day of your return, your car will be brought to JFK so that you can immediately begin your journey home. We guarantee low prices for our valet services compared to those offered at JFK. Do you have any questions about valet parking or parking with Parkos? Take a look at our frequently asked questions. frequently asked questions.
Parking near JFK Airport
Whether you're looking for short or long term parking Parkos is your best choice. We are constantly comparing rates with other parkings, as an effort to offer the most competitive prices. Besides that, all the parkings are personally inspected by us. So you can rest assured that you parked in a safe and reliable parking lot.
We would like to give you the following tips at JFK Airport:

Compare between different parking providers: When you make comparisons, it will definitely save you money. Our prices are the evidence. Instead of choosing from an economy parking lot from the JFK Airport Parking Lot, you should choose from one of our parking providers. You will always get the lowest price warranty.

Safety: It makes sense that you want your car to be parked safely and without any problems. At Parkos we really emphasize on this. That is why we visit the parking lots and evaluate their safety features. Furthermore, all of the parking facilities are monitored 24/7.

Plan your trip: Before you go for long term parking at JFK Airport, we advise you to plan your trip ahead of time. Even though you will not cross all the busy highways, it could happen that you will be stuck in a traffic jam. Make sure to be up to date about the traffic information and plan your trip ahead of time. Be sure to carry a phone charger and before leaving your home please pull up the parking's location on your mobile device. Also, keep your license plate info at hand for check in purposes just in case.
Parking providers at JFK Airport