We help you compare parking prices at JFK International Airport.
What makes Parkos unique?
All parking lots are carefully inspected
Free cancellation up until 24 hours before departure
How can we help you?
Our experts are here to assist you with comparing parking locations and are happy to answer any questions you may have.
Please contact us
Customers rate Parkos with an average of .0
Customers who have booked a parking space through us, rate these with an average of .0/10 based on 0 reviews.
Jeffrey Wednesday 25 November 2020
Were received well and quickly taken to the airport. Nice that the staff parked our car for us.
Anonymous Wednesday 25 November 2020
Straightforward website, booking was quick and easy!
JFK Airport Parking
John F. Kennedy International Airport goes by many names like New York Kennedy, Kennedy Airport, New York JFK, and as it's more commonly called, JFK. JFK Airport is located in Queens, New York City and was named after former president John Fitzgerald Kennedy in 1963, as a tribute after his assassination. JFK is the main international airport serving New York City and is the busiest international gateway into North America. JFK is one of three airports serving the New York area, with the other two being New York Laguardia and Newark Airport. In 2017, JFK Airport handled over 59 million passengers, flying both domestically and internationally (see also Wikipedia).
Passengers JFK
| Year | Amount |
| --- | --- |
| 2013 | 50,413,204 |
| 2014 | 53,254,533 |
| 2015 | 56,827,154 |
| 2016 | 58,813,103 |
| 2017 | 59,392,500 |
| 2018 | 61,909,148 |
JFK International Airport is a hub for major airlines including Delta Airlines, American Airlines, and JetBlue. With more than 90 airlines operating at JFK, travelers can have nonstop flights to destinations across North America, Central America, South America, Europe, Asia, Africa, and Australia. Some popular domestic destinations include places like Los Angeles, San Francisco, San Jose, San Diego, Chicago OHare, Washington DC, Orange County John Wayne Airport, Atlanta Airport ATL, and Houston Hobby. If you have an early morning flight there are plenty of airport hotels to choose from. A few airport hotels that can accommodate you are Holiday Inn JFK, Radisson Hotel JFK Airport, and Comfort Inn JFK.
Being in New York City, having a car and finding a place to park can be time-consuming. And airport parking rates have become more expensive over time. That's why we created Parkos. We wanted to offer an alternative parking solution that's easy and affordable for travelers. At Parkos, we compare parking lots and parking garages near JFK Airport to help you find the best place for you to park. Parkos provides detailed descriptions of the parking facilities including location, method of parking (self or valet), and availability. Our goal is to make parking easier and stress-free for everyone. With Parkos, parking rates are cheaper than the daily rates you would see at JFK parking. So why park at JFK when you can find more affordable parking rates and have a better parking experience at Parkos? Start comparing parking providers and book online with us today!
Parking reservations - Important Information JFK Airport Parking
| | |
| --- | --- |
| 🚘 Number of parking providers: | 3 parking providers |
| ✔️ Best Rated: | Sunrise Auto Sales |
| 🏷 Cheapest: | Parking 4 Airport |
| ✈️ Closest to Airport: | Sunrise Auto Sales |
JFK Parking Rates
Why pay high JFK parking rates when you don't have to? Parkos works with offsite parking operators to bring travelers more affordable parking options. They have lower expenses which means they can offer their customers cheaper daily rates than the ones found at the airport.

Location: Because our partners are located close to JFK Airport, travel time will be less than 20 minutes. You don't have to worry about being late with the close location and quick, easy transport by shuttle bus to the terminal.

Quality: Each parking lot and garage offer quality parking and a professional experience. The parking operators go above and beyond to give customers the best experience. Parkos also wants to help create a better parking experience, which is why we perform personal inspections to ensure high-quality parking spaces. Some providers also offer extra amenities like car care and car washes, creating a more personalized experience for you.

Review: Our goal is to make parking easier and more accessible to travelers. We encourage all customers to leave reviews and share their opinions!
Self Park - JFK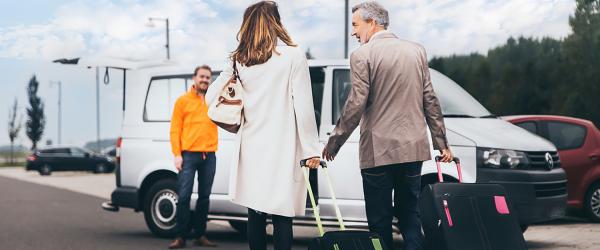 If you see the option to self park listed on a parking provider's profile, that means you will park your own car after arriving at the parking location. After you are checked-in and park your car, you will be able to take the shuttle to the airport terminal. The parking providers do offer luggage assistance and it is a complimentary shuttle. Upon your return from the airport, and only after collecting your baggage, you will call the parking provider to come pick you up. You can find the phone number for the parking in your email and the designated pickup area where you will meet the driver. The shuttles run 24/7 ensuring there is always a shuttle available to you.
Valet Parking - JFK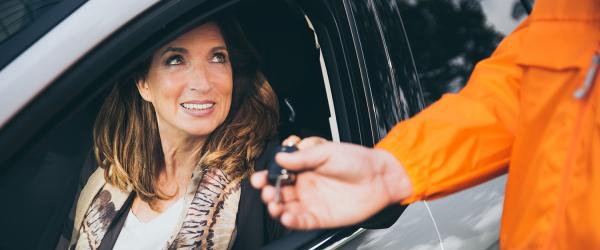 Valet parking offers convenience to customers. Instead of finding your own parking spot or carrying heavy bags from your car to the shuttle, you can now relax as someone parks your car for you. You will still drive to the parking location but instead of parking your own car, a lot attendant will meet you out front and park your car for you. After your car is parked, you can get on the shuttle taking you to the airport. The provider offers luggage assistance and of course, it is a complimentary shuttle. After you arrive back from your journey, you will collect your bags and call the shuttle driver to pick you up. You can find the shuttle dispatch number and pick up point in your confirmation email. Once you re back at the parking location, an employee will bring your car to you and you can continue your journey home.
JFK Long Term Parking
Parkos is the best choice for airport parking! We compare parking rates to bring lower, more competitive prices. We created Parkos to offer travelers a better way to park. If you're looking for short term parking or long term parking, we have the provider for you.

Compare different parking providers: Instead of settling for the JFK long term parking or economy lot, you can look at our parking options and make the choice that works for you. You will always get the lowest prices for daily rates without compromising quality or accessibility. When choosing a provider, you also have options to choose outdoor uncovered parking, outdoor covered parking, or indoor parking.

Safety: We understand that you want your car to be parked safely, without having to worry. We evaluate the safety features of each parking location during our personal inspections. Plus, the parking facilities around JFK have CCTV cameras. We work hard to make sure your car is in good hands.

Plan your trip: You can compare and make an online reservation for a parking space with one of our providers, getting a guaranteed spot. This way you won't have to drive around the economy lot at JFK Airport, trying to find an available space and being charged too much. Don't worry if your plans change, you can cancel your reservation for free up to 24 hours in advance. Drive to the parking location with plenty of time, arriving 20 to 30 minutes before you're due for check-in at New York's JFK. Then if you get stuck in traffic, you'll have time to spare. To help avoid any issues on the road, we recommend checking traffic information including weather conditions and construction plans. Need help finding your way to one of our offsite JFK parking locations? Feel free to use our route planner to get driving directions.
Be sure to check out our extensive JFK Parking Guide!