Already

100.000 customers

booked before you and chose one of the

0 parkings

at

JFK Airport.
The benefits of Parkos
All car parks personally inspected
Guaranteed the lowest price
Changing and canceling is free
We're here to help
Our experts are here to assist you with comparing car parks and are happy to answer any questions you may have.
Please contact us
Customers rate Parkos with an average of 8.6
Customers who have booked a parking space through us, rate these with an average of 8.6/10 based on 355 reviews.
Jeffrey Thursday 21 February 2019
Were received well and quickly taken to the airport. Nice that the staff parked our car for us.
Anonymous Thursday 21 February 2019
Straightforward website, booking was quick and easy!
JFK Airport Parking
When you go on holiday or business trip by airplane and you fly from JFK airport, it's only logical that you prefer going to the airport by car. In this way, you can organize your trip yourself and you are not dependent on other factors, such as public transfer or family and friends who have to pick you up. But before you make a reservation at a parking, it would be wise to compare all the parking providers around John F. Kennedy Airport. Nowadays there are many parking providers around JFK that offer parking spaces at a low price. Parkos has made comparing between these providers easy and provides an overview of all the different parking providers around the airport. When you have made your comparison, you can make a reservation right away. By reserving your parking spot via Parkos you will be assured of the lowest price and you will know for sure that there is a parking spot reserved for you.
John F. Kennedy International Airport, formerly known as Idlewild Airport and New York international Airport, is the most important airport of New York. It is located at Long Island, 30 kilometers from Manhattan. In 2017, this airport had around 30.000.000 passengers and could be seen as an important airport at the east coast of the United States. John F. Kennedy airport has 6 terminals, which contains 128 gates.
The airport has multiple parking lots which are all located at the airport. Every parking lot belongs to a different terminal and has its own color. This creates an overview that is easy to follow. It is possible to make a reservation online, however, you will pay much more compared to when you make a reservation at one of the parking providers from Parkos.
Since the rates for flight tickets are becoming more cheap these days, it only makes sense that prices for parking places around airports are also becoming cheaper. Having this knowledge, multiple entrepreneurs have come up with the idea to propose alternative parking lots. These parking lots are not part of JFK and are mostly located outside of the airport. However, they are near JFK. Our role is to serve you an overview of these parkings and to make it easy to compare and make a choice for a parking.
Cheap parking at JFK Airport
You are going on a holiday and you would like to park your car at John F. Kennedy Airport. Nobody wants to pay too much for a parking space. This is the reason that Parkos offers alternative parking providers who focus on cheap long term parking at the airport. But why are these providers able to offer these low prices? This is because of the fact that they do not have to deal with big management layers, expensive offices or unnecessary luxury. Like this, you can always enjoy the lower prices compared to a parking option from JFK itself.

Location: The parking providers are located near the airport. This means that the distance to the airport is always short and not longer than 15 minutes by shuttle. By having the parkings located close to the airport, you do not have to drive unnecessary miles with your car, hence you take the advantage of cheap rent lands. We guarantee that when you make a reservation at one of out parking providers, it will always be cheaper compared to self parking at the airport.

Quality: A lot of people think that when something is cheap, the quality is low. However, this is something that is not applicable to our parking providers. The reason for this is the following. These parkings are forced to keep their quality high as they can not lean on a famous name or continuous flow of cars. To distinguish themselves even more, the parkings often offer extra services, such as a car wash service. The parking providers are highly aware of the fact that when customers are not satisfied, they will not come back. Based on this information, you can expect not only low prices, but also an excellent service!

Review: The moment you have made a reservation through Parkos at one of our parking options at JFK, you can leave a review without any charges. This is very important for us since this is a reliable source and also a way to rank the parkings.
Shuttle- and valet parking at JFK airport
Shuttle parking and Valet parking. What does it actually mean? Below we will explain to you the differences, advantages and disadvantages between shuttle parking and valet parking.
Shuttle parking JFK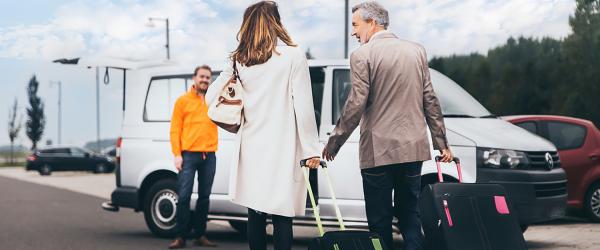 Shuttle parking means that you will drive immediately to the parking provider. By doing this, you will not have to worry about busy roads around the airports. The fact that you have made a reservation, means that the parking provider is aware that you will arrive. When you arrive, a shuttle bus will be ready to bring you to the airport. This shuttle bus transfer is free of charge. We guarantee that the price you see on our website is the actual price and you will not have to pay more when you arrive at the parking. When you come back from your trip, you will be picked up at the airport and brought back to your car. Furthermore, when you make a reservation, you can make the choice to park indoor or outside. Besides that, you also have the possibility to leave your car keys at the parking or take them with you. Do you have more questions? Please take a look at our frequent ask questions.
Valet parking Schiphol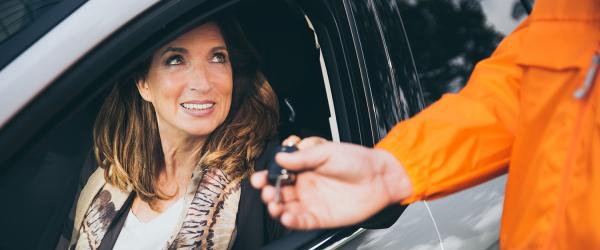 Valet parking JFK airport will give you even more comfort. As soon as you have made a reservation, you will receive a reservation confirmation in your mailbox. This confirmation will also give you information about the location at the airport you should drive to. Once you have arrived at this location, an employee of the parking provider will be there to take over your car. The advantages of this service are that you can immediately drive to the airport and you do not have to worry about an external location. Secondly, you will not have to take the shuttle bus to the airport. When you come back from your vacation, your car will be driven back to arrivals by a driver of the satellite parking. This way you'll be able to drive home as soon as you step out of the arrival terminal. In short, this is a very convenient way of parking at LAX. Making a reservation through Parkos at a valet parking is definitely cheaper than booking a valet service from the airport itself.
JFK long term parking
When you go on a trip for only two days or for a longer duration, you will find the best providers at Parkos. You will always find the sharpest prices because of our constant comparisons with other parkings. Besides that, all our parkings are personally inspected by us. Knowing this, you can be sure that your car is parked at a provider that is reliable and safe.

Compare between different parking providers: making comparisons saves money. Our prices are evidence of this. You can save an enormous amount of money on a parking place from Parkos instead of choosing for the economy parking lots from the airport. You will always get the lowest price warranty.

Choose your own way of parking: there are different ways of parking. Because of this reason, make sure that you are aware of the different services.
When you choose shuttle parking, you will drive to the parking provider yourself after which you will be brought to the airport with a shuttle bus for free. When you return from your trip, the shuttle bus will be ready at the airport. This bus will drive you to the external location where your car has been parked. This option is most of the time the best option to choose for when you want to park your car near JFK.
When you choose for valet parking, you will drive to the airport. An employee will be there and pick up your car. In this way, you can directly go to the check-in desk without further worrying about your car. Upon returning from your vacation or trip, your car will be brought to the airport again by an employee from the parking provider.

Safety: did you compare the different parking providers? It makes sense that you want your car to be parked in a safe way. By personally inspecting the parkings, Parkos also checks the safety of the parking and its facilities. To make sure that your car is parked safely, check the different safety precautions that are done per different parking. Having this done, you will be able to travel with peace of mind. All the parking lots from our parking providers are 24/7 monitored.

Plan your trip: Before you go for long parking at JFK, we advise you to plan your trip ahead of time. Even though you will not cross all the busy highways of Los Angeles, it could happen that you will be get stuck in a traffic jam. Make sure to be up to date about the traffic information and plan your trip ahead of time.