JFK International Airport parking map
Cheap parking at JFK International Airport
In 2021, John F Kennedy Airport (JFK) handled 15,200,286 passengers. This figure is expected to rise in 2022 as the world returns to normal after the pandemic. The airport is located 16 miles southeast of Manhattan and has six terminals, leading to massive traffic and demand for JFK airport parking. Check out our site now to get the best value for money parking JFK.
The best way to get cheap parking is to use off-site parking. Parkos helps you save on your trip by providing off-site parking lots that offer better value for money than our competitors. How much is parking at JFK? Daily rates start at $9.71. So if you're in a nearby airport, such as Newark Airport (EWR) and LaGuardia Airport (LGA), parking at JFK is a great option too.
Prices are correct at the time of writing (July 2022).
JFK International airport parking rates
You can compare prices on the search tool at the top of this page When you have made your choice, book the space and pay. The JFK parking rates will be shown clearly. You will be able to compare the prices of different parking lots. Prices are shown in real-time and are locked in when you confirm your booking. We will e-mail you confirming the booking, and give directions to your parking space. You can choose between our "self-park" or "valet" service. In both cases, you will leave your car in the lot and take a shuttle bus to the airport. With the "valet" service, a lot of attendant parks your car for you when you arrive, saving you valuable time.
During the high season (July - September) parking prices tend to be higher due to high demand.
JFK International airport long-term parking
Parkos provides you with the most cost-effective JFK longterm parking. All our car parks have fencing, 24-hour security, and staff. We select our car park providers carefully. All the parking lot staff are insured to drive your car and have been taught to take proper care of it. You can compare the costs of our parking lots by going to the airport's official website.
On-site Economy parking with shuttle
For a prolonged stay, JFK Economy Lot (Long Term Parking Lot 9) is the ideal option. A free shuttle will transport you to the airport.
| Daily rate | From |
| --- | --- |
| 3 days | Coming soon |
| 8 days | Coming soon |
| 15 days | Coming soon |
Off-site Long Term Parking with shuttle
When choosing self parking at JFK airport you park you car yourself. A free shuttle service will take you directly to the airport terminal.
| Daily rate | From |
| --- | --- |
| 3 days | $18.11 - |
| 8 days | $17.69 - |
| 15 days | $17.75 - |
Off-Site Long Term Parking with valet and shuttle
Get the best of both worlds with our off-site long term parking with valet and shuttle services at JFK airport.
| Daily rate | From |
| --- | --- |
| 3 days | Coming soon |
| 8 days | Coming soon |
| 15 days | Coming soon |
Off-Site Long Term Hotel parking
Various hotels and motels near JFK airport offer long-term parking options. A free shuttle to the airport is provided in most cases.
| Daily rate | From |
| --- | --- |
| 3 days | Coming soon |
| 8 days | Coming soon |
| 15 days | Coming soon |
JFK International airport short term parking
Parkos has nine off-site parking lots close to the airport, and your journey to the terminal will never take more than 20 minutes. You will find that our parking offers are the cheapest available at JFK. Our own Parkos offers start at $11.33 daily compared to the official JFK airport parking price of $29 for the first 24 hours. That's almost three times more per day!
| | |
| --- | --- |
| First 30 minutes | $4.00 |
| Each additional 30 minutes | $4.00 |
| Daily rates | $60.00 |
JFK International airport parking tips
When booking your parking space, try to find one closest to the terminal you are departing from. This will make for an easier and shorter transfer to your check-in. Customer reviews are always a great source of parking tips. We have many to choose from on this site.
Restricted mobility parking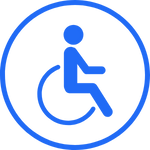 Travelers with restricted mobility can find spaces with 24 security closest to the terminal entrances. They are discounted from the regular price and cost $4 per half hour up to a maximum of $29 per day. Official disabled license plates must be prominently displayed when booking these spaces.
Cell Phone Lots (drop-off & pick-up) at JFK International airport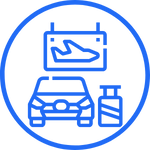 If you are picking up family or friends at JFK, you will not be allowed to wait outside the Arrivals Hall. Instead, use the conveniently located Cell Phone Lots located just off the Van Wyck and JFK Expressways. Both lots are less than a five-minute drive from all the terminals.
Electric Vehicle Charging Stations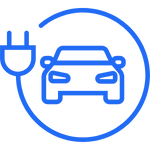 Are you looking to charge your car at JFK? The airport has five EV charging stations in JFK's Yellow Lot, which is close to Terminal 5, and a further ten in the West Cell Phone Lot. All the charging points are free of charge and subject to availability.
JFK International Airport parking map
Customers rate our car parking providers with an average of 3.9 out of 5
Parked from 2/8/23 to 2/15/23
Parked from 12/12/22 to 12/19/22
Parking providers at JFK International Airport
Frequently Asked Questions
How does Shuttle parking work at JFK airport?
How does Valet Parking work at JFK International Airport?
The benefits of Parkos
All parking lots are carefully inspected
The best deals on airport parking
Free cancellation up until 24 hours
Over 3 million customers globally