JFK Airport Parking Guide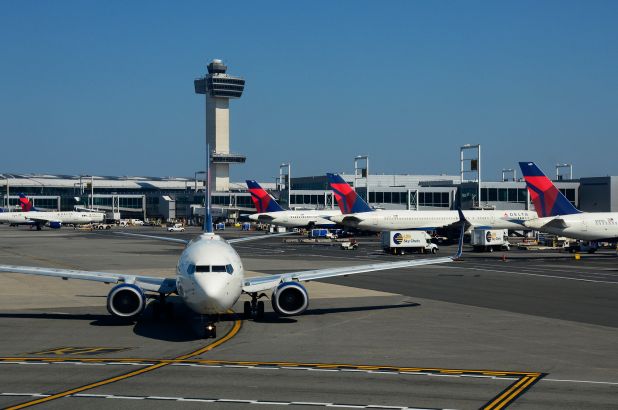 Finding your way around airports and their parking garages can be a challenge. We hope you'll find some useful tips in our JFK Airport parking guide. You can find parking rates, airport terminal parking information, food and shopping options, Airport FAQs, local hotels, and directions to the airport.
JFK Parking Rates
| | |
| --- | --- |
| Parking Options | JFK Parking Rates |
| Long Term | $3/hour, max $15 per day |
| Short Term | $3/hour, max $36 per day |
| Curbside Valet | $25 per day |
| Overflow | $10 per day |
The rates for JFK parking garages start at $18 and can reach up to $39 at the daily/short-term lots. The economy lot and long term lot 9 at JFK cost $18 for the first 24-hour period and then charge $6 for each 8-hour increment after. The airport also offers short term parking garages next to the terminals. The green, orange, and red parking garages charge $35 per day and are located near terminals 1, 2, 7, and 8. For parking close to terminals 4 and 5, you can park in the blue and yellow garages for $39.
Compare all JFK airport parking providers
Travelers who park in the long term lots will have access to the AirTrain, free of charge, where they can reach any of the JFK terminals. However, relying on the AirTrain to be on time and have space can add stress to your travels. Plus, the AirTrain costs an additional $8 each way, in addition to the high parking fee.
JFK Terminal Parking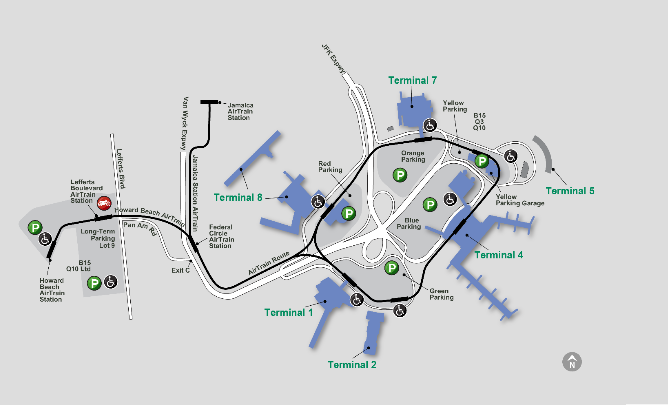 As one of the major international hubs in the USA, New York's JFK has service from over 70 airlines. To accommodate the millions of passengers passing through the airport, the Port Authority has built 6 terminals, for both domestic and international flights.
Terminal 1 hosts the following airlines: Aeroflot, Air China, Air France, Air Italy, Alitalia, Austrian Airlines, Azerbaijan Airlines, Brussels Airlines, Cayman Airlines, China Eastern, Eva Air, Fly Jamaica Airlines, Japan Airlines, Korean Air, Lufthansa, Norwegian Air, Philippine Airlines, Royal Air Maroc, Saudi Arabian Airlines, Turkish Airlines, Viva Aerobus
Terminal 2 only works with Delta Airlines.
Terminal 4 has airlines Aeromexico, Air Europa, Air India, Air Serbia, Asiana, Avianca, Avianca Brasil, Caribbean Airlines, China Airlines, Copa Airlines, Delta Air Lines, Egypt Air, El Al, Emirates, Etihad, Kenya Airways, KLM Royal Dutch Airlines, Kuwait Airways, Singapore Airlines, South African Airways, Swiss, Uzbekistan Airlines, Virgin Atlantic, Volaris, WestJet, XiamenAir, and XL Airways.
Terminal 5 accomodates Aer Lingus, Cape Air, Hawaiian Airlines, JetBlue, TAP Portugal.
Getting to JFK International Airport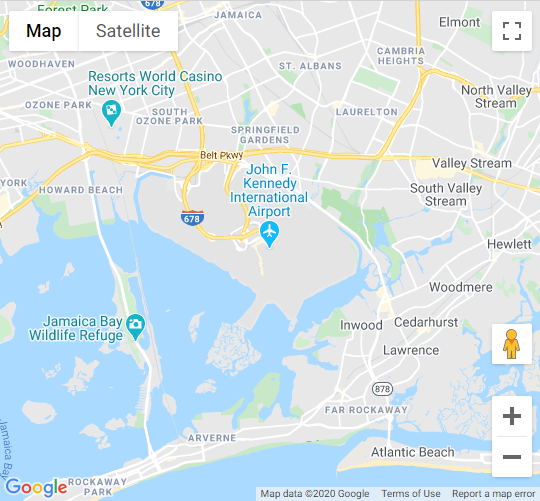 There are plenty of ways to reach the airport from anywhere in New York City. For travelers needing to drive to JFK, the address is as follows:
John F Kennedy International Airport Queens, NY 11430 USA
Airtrains
connects to the MTA subway system and can bring you from JFK to anywhere in the city
Subways/Trains:
NYC subway lines and commuter rail system
Buses:
The bus line has stops throughout the city and connections to JFK Airport
Taxis:
There is also the option to take a taxi from the city to the airport, however, this is typically more expensive
Airport FAQS
Security lines typically open around 4 AM at JFK airport for all terminals. Closing times vary by terminal and we recommend calling your airline to ensure the security checkpoint is still open if you have a late flight.
Some terminals at JFK are open 24/7 including Terminal 1 and Terminal 4. Other terminals don't open its doors until the early morning hours such as Terminal 5 which opens at 5:00 AM.
Travelers flying within the United States should arrive and check-in two hours prior to their departure. If you have an international flight, airlines generally recommend arriving three hours before your flight, allowing for plenty of time to get through security and drop off your luggage.