Parking at Albany International Airport
The Albany International Airport is a major air transportation hub in Colonie, Albany County. It's the first and oldest municipal airport in the United States. Over the years, the airport experienced significant expansions and renovations to cater to the changing needs of its passengers. In 2022, the airport served 1,275,523 passengers. This was a 30.84% increase compared to the 974,845 passengers who used Albany International Airport in 2021. In recent years, Albany Airport had several improvements to cater to its increasing passenger traffic, including the construction of a 1,000-slot parking spot.
Serving Albany and the Capital Region, the Albany International Airport takes pride in being an innovative hub. Recent developments made it a smart airport, incorporating touch-free operations, advanced biometrics, and blockchain technology, among others. It's also known for its environmental programs, including noise abatement and stormwater recovery and treatment facility. The airport has a total size of 1,200 acres with 53 average daily commercial arrivals and departures. Major airlines using the Albany International Airport include Allegiant Air, American Airlines, Delta Airlines, and Frontier Airlines. JetBlue, Southwest Airlines, and United Airlines. It's also a full-service cargo terminal, which is a hub for companies like FedEx and UPS.
In 2018, the Albany International Airport had a massive renovation that cost $63.3 million. These re-developments include the construction of a smart airport parking garage with over 1,000 slots. Passengers can choose from economy e-lot, garage parking, short-term parking, and long-term parking. Off-site parking is also available, as well as paid parking from surrounding hotels at the Albany International Airport.
Best Albany International Airport Parking Rates
Different parking options are available at Albany International Airport for your convenience. The Economy E-Lot is the cheapest option, which starts at $6 per day. Short-term parking is also available, which is free for the first 30 minutes and costs $24 for one day. On the other hand, Long-Term Parking costs $10 for one day. The first hour is $2 and the succeeding hour costs only $1. You also have the option to bring your vehicle to the North and South Parking Garage, which will cost $14 for one day. Meanwhile, you can also opt for an hourly rate, which will cost $2 every hour.

The parking lots are across different locations surrounding Albany International Airport. Access the economy parking lot through Albany Shaker Road. Meanwhile, short-term parking is on the first level of the North Parking Garage. The long-term parking slot is behind the North Parking Garage.

The covered parking near the terminal offers exemplary services and a convenient location. With ticketless entry and automated detection, the parking has smart features that will make it a breeze for passengers to leave their cars.

Many people are happy with the parking at Albany International Airport. One thing many passengers highlight is the affordable rates. Not to mention, they also love the free shuttle service, which makes it easy to reach the airport terminal from the parking.
Cheap Long Term Parking at Albany International Airport
At ALB, different parking options are available, including those from outside providers. In-house parking is in a new building, which allows users to enjoy advanced and secure facilities. Nonetheless, you can also opt for off-site and hotel parking. These are from third-party providers outside ALB's management, so the quality of service can vary. Before you park, take the time to compare the rates and facilities. Choose which one is most affordable to meet your parking needs. However, you should go beyond the price and consider your safety and convenience. It's also best to read reviews from other people and learn from their real-life parking experiences.
Compare Parking Providers for Your Peace of Mind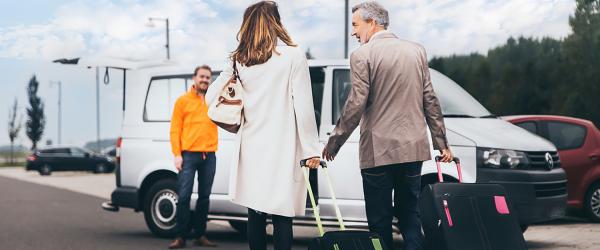 Economy E-Lot parking is for those on a budget. You can also choose from short-term or long-term parking, depending on how long you intend to leave your car. Alternatively, you can also opt for North and South Parking Garage. As mentioned, the rates differ depending on the parking type you choose at ALB. Handicapped parking is available as well.
Parking Safety is a Priority at ALB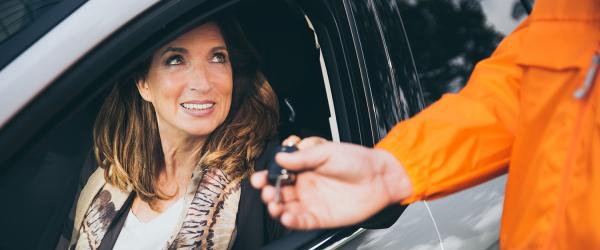 Plan your ALB Parking: Prepare before your trip. Read up on the different options, and more importantly, parking locations. Save time by knowing where exactly to park when you arrive, so you won't be late for your flight. It can be a hassle to figure out the exact parking location only once you arrive. Spare yourself from such a headache. Use our travel direction planner for a hassle-free ride to your airport parking.
Long Term parking at Albany International Airport
Need to leave your car for a couple of days? No worries! ALB offers long-term parking at affordable rates. Enjoy your trip without thinking of where to leave your vehicle. Long-term parking lots are behind the North Parking Garage. The parking entrance is an EZPass Plus lane by default. If you have an EZPass Plus tag, but you don't intend to use it, hide it in a read-prevention bag. Another option is to enter through the back of the garage if you'll opt for another payment method.

Albany International Airport has a Cell Phone Parking Lot. You'll find it on the right side of Albany Shaker Road. It's only two minutes away from the terminal. This is where you can wait for your passenger. Plus, it's the perfect place for sightseeing, looking not only at people but also at planes flying in and out of ALB.

Do you drive an electric vehicle? Bravo for helping save the environment! It's good to know that ALB parking comes with several electric charging stations. At the Long-Term Parking Garage, three stations are next to the exit plaza while eight are at the west side. Meanwhile, the North Garage (second floor) has three stations and the South Garage (fourth floor) has ten stations.

Accessibility won't be a problem when parking at the Albany International Airport. Dedicated handicapped areas are available for people with disabilities. Generous space is available on both sides for ease of entry and exit. Make sure to display your handicap flag and that the handicap license plate is visible when you park. Even the automatic ticketing system and payment booths are accessible.

Choose your preferred payment method depending on what's most convenient. EZPass Plus is available. It comes with its own lane and does not issue a ticket. Alternatively, you can also pay using your credit card. Insert the same card you used upon entry to exit the parking lot. Cash payments are also available. Settle cash payments at an on-foot station next to carousel #2.
Our benefits
All parking facilities are carefully inspected
The best deals on airport parking
Free cancellation up until 24 hours
4M+ customers globally