500.000
customers booked with us at one of our

0 parking locations

at

Fort Lauderdale.
The benefits of Parkos
All car parks personally inspected
Guaranteed the lowest price
Changing and canceling is free
We're here to help
Our experts are here to assist you with comparing car parks and are happy to answer any questions you may have.
Please contact us
Customers rate Parkos with an average of 8.6
Customers who have booked a parking space through us, rate these with an average of 8.6/10 based on 355 reviews.
Jeffrey Monday 22 April 2019
Were received well and quickly taken to the airport. Nice that the staff parked our car for us.
Anonymous Monday 22 April 2019
Straightforward website, booking was quick and easy!
Fort Lauderdale Airport parking
Most of the people want to drive to the airport themselves. The reason for that, is that you don't have to wait for someone else to pick you up, or be dependant on the public transport, and you can immediately drive home after your trip. The parkings are located around the airport, so you will avoid the traffic jam around the airport. With Parkos you can immediately compare reliable parking providers around Fort Lauderdale Airport and make an online reservation. You will be assured of the lowest prices and are assured of a parking place for your car.
Passengers Fort Lauderdale Airport
| Year | Amount |
| --- | --- |
| 2012 | 23,569,103 |
| 2013 | 23,559,779 |
| 2014 | 24,648,306 |
| 2015 | 26,941,511 |
| 2016 | 29,205,002 |
| 2017 | 32,511,053 |
| 2018 | 35,963,370 |
In 2017 the airport processed 32,511,053 passengers. This makes Fort Lauderdale Airport, with 4 terminals and 57 gates, the 19th busiest airport in the United States. The airport is located in Broward Country, Florida, three miles southwest of downtown Fort Lauderdale. The airport is very popular among tourists bound for the Caribbean. Since the late 1990s, Fort Lauderdale Airport has become an intercontinental gateway with many airlines such as Allegiant Air, Southwest Airlines and JetBlue Airways. The most important one is Spirit Airlines. Fort Lauderdale Airport is the base of this airline.
Because flying is becoming cheaper every day, parking your car also becomes cheaper. As a result, a couple of people saw an opportunity to start a business in offering parking spots cheaper than the official Fort Lauderdale airport parking. These are businesses that work independently and offer great services and low prices. They guarantee you that their price is lower than the official airport parking, which makes parking around the airport immediately more pleasing. With Parkos you can easily make an online reservation and guarantee yourself parking spot.
Cheap parking at Fort Lauderdale airport
When you are all packed for your holiday, you must not forget a parking spot for your car. You can immediately compare and book a parking spot via Parkos. Parkos is offering you alternative parking providers that all focus on cheap long-term Fort Lauderdale Airport parking. Because of course, no one wants to pay too much for airport parking.

Location: The parkings are located close to the airport, at a short distance so that you don't have to drive too far. Because the parkings are not located at the airport, the parking providers can offer a lower price than the official long term airport parking. So we can always assure you the lowest price.

Quality: Cheap prices are often compared with poor quality. This is something that we want to avoid. The parkings do offer cheap prices, but this is not combined with poor quality. These providers are not that big that they can rely on a brand name, so they are forced to keep the quality as high as possible. As a result of keeping the quality high, parking providers offer different parking facilities and services. For example, you can pick up your car all clean and washed by one of the employers while you were travelling. Parking providers want customers to be satisfied, so that they will come back.

Reviews: This is why a short-term strategy won't work. So if you book via Parkos, you can expect the lowest prices, and also a great service! We think the opinion of our customers is really important. We want to share the same opinion, and we do! The moment you have made a reservation for a Fort Lauderdale airport parking, you can always leave a review.
Shuttle parking at Fort Lauderdale airport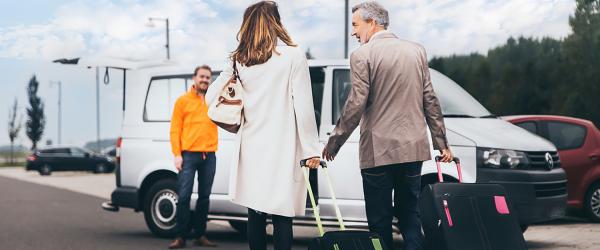 There are two options you can choose from for a Fort Lauderdale Airport parking, these are shuttle and valet parking. There are a couple differences between the two. With shuttle parking you have to drive straight to the parking you reserved. This parking is, regarding your choice, an indoor or outdoor area. You can park your car yourself or an employee of the parking will park your car. When your car is parked, and you are ready to go you will be driven to the airport with the shuttle bus, which is free of charge. The employees of the parking will provide you luggage assistance, to get all your luggage into the shuttle bus. After completing your reservation at Parkos, you will receive a confirmation mail with information. In this email, you will find information about the location, parking instructions and the phone number of the driver. There will be no additional costs on the price mentioned on the website. The price that you see, is the price that you pay.
Valet parking Fort Lauderdale airport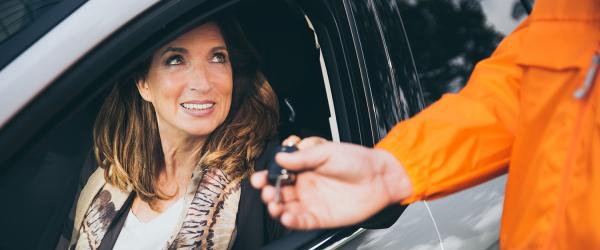 In addition to shuttle parking, valet parking is an option that offers more comfort. With valet parking you drive to the departure hall of the airport, not to the parking. After handing over your car to an employee of the parking who will be waiting at the airport, you can immediately walk over to the check in. This saves you a lot of time, because you don't have to wait for a shuttle bus or public transfer. In the meantime, the employee of the parking is driving your car to the parking area. When you return from your journey, your car will be driven to Fort Lauderdale Airport and is ready to be picked up by you so that you can directly return home. All of the detailed information, such as the exact place where you should drop off your car and the phonenumber of the driver, will be stated in the confirmation mail. You will receive this mail after successfully completing your reservation.
Long parking at Fort Lauderdale Airport
With Parkos, long-term parking is really easy. It doesn't matter if you want to park for two days or a couple of weeks, we always assure you the best providers. What we do is compare these providers so we can always guarantee the lowest prices. We have also personally inspected the parkings for you, so that you park your car at a safe and reliable parking provider.
To help you finding a suitable parking provider, we have the following tips about long-term parking.
Compare different parking providers: It can save you a lot of money when you compare different parking providers. If you want to park for a long time at Fort Lauderdale Airport, prices at the official airport can be really high. Comparing alternative parking providers with Parkos can save you tens of dollars per week. We will always guarantee you the lowest price.
Choose your parking method: You can choose whether you want your car to be picked up at the airport, or driving your car to the parking yourself. These two types of parking are shuttle and valet-parking, it is important to make sure that you are aware of the differences to prevent confusion.
Choosing shuttle parking, you drive your car to the car park yourself. After parking your car, there is a shuttle bus waiting for you. The shuttle bus, which is completely free of charge, will drive you to the airport. When you return from your journey, the shuttle bus will be waiting for you at the airport. The bus will drive you back to the car park where your car is parked. A shuttle service is often the cheapest option for an Fort Lauderdale airport parking.
With valet-parking, you will not drive to the car park, but directly to the airport. When you hand over your car, you can immediately go to the check in of the airport to start your journey. A employee will then drive your car to the car park. When you return, your car will be ready to be picked up at the airport.
Safety: Have you compared all the available providers and made a choice? Then you want your car to be parked safe of course. Parkos inspects all locations of the parkings personally to check the safety and facilities. You can see for yourself which safety measures the parking has taken in order to guarantee its customers a safe parking spot. All this information is available on our website at the information page of the parking provider. In this way, you won't have any stress about the safety of your car.
Plan your trip: Before you park your car long-term at Fort Lauderdale airport, we advise you to plan your trip either to the airport or the parking well. It can occur that there are traffic jams and of course you don't want to miss your flight. So make sure you leave on time and plan your trip with our routeplanner.