FLL Airport Parking Guide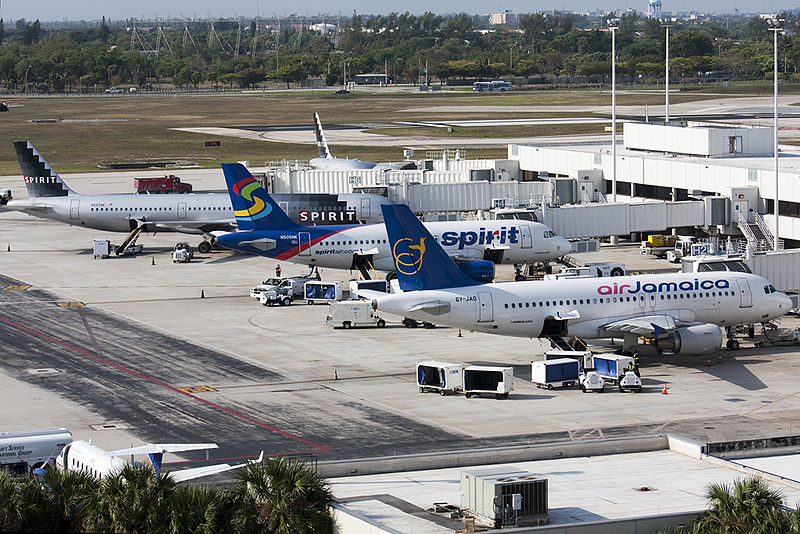 Navigating airports and parking before a trip can be stressful. Let us help you with our Fort Lauderdale Airport parking guide, providing tips and information about FLL. In this guide, you can find parking rates, airport terminal parking information, food and shopping options, Airport FAQs, local hotels, and directions to the airport.
FLL Parking Rates
| | |
| --- | --- |
| Parking Options | FLL Parking Rates |
| Long Term | $3/hour, max $15 per day |
| Short Term | $3/hour, max $36 per day |
| Curbside Valet | $25 per day |
| Overflow | $10 per day |
FLL daily prices start at $15 per day for its long-term parking options. For long term parking, travelers can park in the Hibiscus Garage levels 3-7, Palm Garage levels 2-4, or Cypress Garage levels 7-9. The short term parking rates cost $3 per hour or $36 per day. The garages offering short term parking include the Hibiscus Garage level 2 or Palm Garage level 1. If you're looking for a more executive parking option, the airport offers curbside valet for $25 per day. If these parking options are full, FLL Airport also offers overflow parking for $10 per day.
Compare all FLL airport parking providers
For alternative airport parking options, check out Fort Lauderdale Airport Parking to book affordable, easy parking for your trip! We work with private offsite airport parking operators to offer better parking. Our partners offer free shuttle transfers to and from the airport, long term parking, outdoor/indoor parking, self-parking, and valet parking. You can also book worry-free, with free cancellations or reservation changes up to 24 hours prior to your reservation. Some of our partners you can book with include Cambria Hotel, Rodeway Inn & Suites, Hyatt Place, or Springhill Suites. Reserve a guaranteed parking spot online in less than 5 minutes today!
Fort Lauderdale Terminal Guide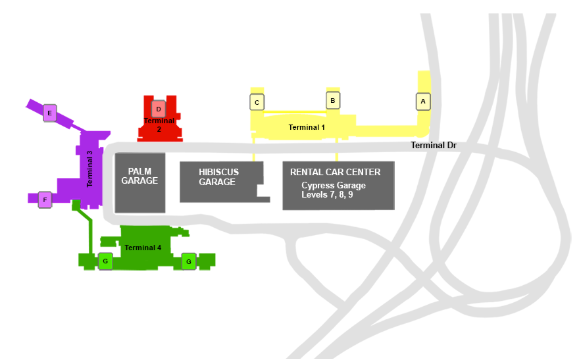 FLL Airport has four terminals and seven concourses for domestic and international flights.
Terminal 1 has concourses A, B, and C with flights arriving from Cuba, Mexico, Cancun, and Panama. The airlines departing and arriving from Terminal 1 include Westjet, United, Swoop, Southwest, Silver, Copa Airlines, Bahamasair, Allegiant, and Alaska. Terminal 1 is also one of the locations for U.S. Customs.
Terminal 2 is the smallest terminal at FLL with only concourse D. The two airlines that fly in and out of Terminal 2 are Delta and Air Canada.
Terminal 3 houses two concourses, concourse E and F. This terminal offers service from American Airlines, Azul, Emirates, JetBlue, Norwegian, and Sunwing.
Terminal 4 has two G concourses and is the main terminal used for international flights. The terminal is the second area of the airport which has U.S. Customs. Airlines found in Terminal 4 include TAME, Spirit, IBC, SkyBahamas, Frontier, Caribbean, Avianca, Air Transat. For any travelers needing to go between Terminal 3 and 4, there is a connector bridge after the security check-point.
Fort Lauderdale Driving Directions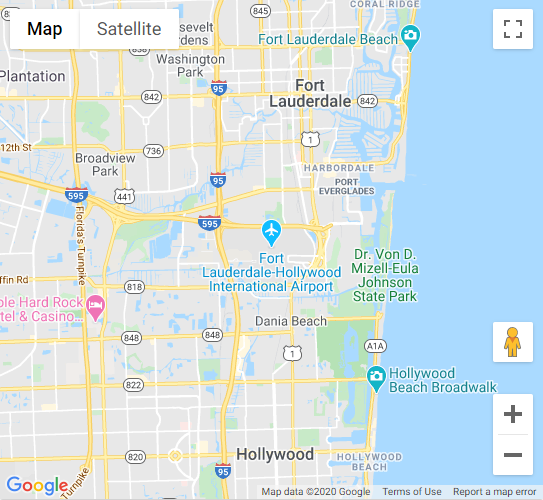 FLL Airport is located at 100 Terminal Drive, Fort Lauderdale, Florida 33315. You can follow the instructions listed below, otherwise, you can also use our free route planner for directions.
Coming from the North?
Take I-95 South to I-595 East. Stay to the right onto US 1/South Federal Hwy and take the "Airport Exit."
Coming from the South?
Take I-95 North to I-595 East. Stay to the right onto US 1/South Federal Hwy and take the "Airport Exit."
Coming from Fort Lauderdale Beach?
From the A1A, drive West on Sunset Blvd or Las Olas Blvd to the Federal Hwy. Head South on the Federal Hwy/US 1 and take the "Airport Exit."
From I-95 and Griffin Road Eastbound
Take Griffin Road east. Turn left onto Federal highway, then take an immediate left to the "Intl Airport" sign.
Airport FAQS
The TSA checkpoints vary in hours depending on the day of the week. Be sure to check the FLL Airport official website to check for the day of your departure. Typically, Security opens between 3:30 and 4 AM for all of the terminals. The closing hours vary by terminal. Terminal 1 closes at 10:50 PM, Terminal 2 closes at 9:20 PM, Terminal 3 Concourse E closes at 8:30 PM while Concourse F closes at Midnight, and Terminal 4 also closes at Midnight.
Fort Lauderdale Airport is open 24 hours a day.
For domestic flights, travelers should plan to arrive between 1.5 to 2 hours before your flight to check-in, drop off your bags, and get through security. For those with international flights, it is recommended that you arrive 2.5 to 3 hours before your flight's departure time.