We help you compare parking prices at Boston Logan International Airport.
What makes Parkos unique?
All parking lots are carefully inspected
Free cancellation up until 24 hours before departure
How can we help you?
Our experts are here to assist you with comparing parking locations and are happy to answer any questions you may have.
Please contact us
Customers rate Parkos with an average of 8.6
Customers who have booked a parking space through us, rate these with an average of 8.6/10 based on 355 reviews.
Jeffrey Thursday 06 August 2020
Were received well and quickly taken to the airport. Nice that the staff parked our car for us.
Anonymous Thursday 06 August 2020
Straightforward website, booking was quick and easy!
Logan Airport Parking
Logan International Airport has many different names. The airport is officially named General Edward Lawrence Logan Airport, named after the war hero native to Boston, but many people refer to it as Boston Logan International Airport or Logan Airport. The international airport is located in East Boston and Winthrop, Massachusetts, just 14 minutes from downtown Boston. Logan Airport is the largest airport in Massachusetts and the New England Region of the United States. In 2018, Logan Airport served over 40 million passengers, the most in the airport's history (see also Wikipedia).Boston Logan Airport also serves as the focus city for JetBlue Airlines and a hub for Delta Airlines and Cape Air.
Passengers BOS
| Year | Amount |
| --- | --- |
| 2013 | 30,318,631 |
| 2014 | 31,634,445 |
| 2015 | 33,449,580 |
| 2016 | 36,288,042 |
| 2017 | 38,412,419 |
| 2018 | 40,941,925 |
The airport became the 16th busiest airport in the U.S. and has direct flights throughout the country and the world. Some destinations that can be reached from Logan Airport include Los Angeles, San Francisco,Orlando, Chicago O'Hare, Atlanta, and Washington National. If you have an early flight scheduled and need accommodation, East and South Boston have many airport hotels for you. You can stay the night at hotels like Hilton Boston Logan, Comfort Inn, Four Points by Sheraton, and Rodeway Inn Logan International Airport. Of course, Boston is best known for Fenway Park, which is only a short drive from Logan Airport.
Tired of paying expensive parking fees to park in Boston airport's lots and garages? Even the economy parking lots at Logan Airport have become costly. That's why we created Parkos! Parkos is an alternative airport parking comparison and booking platform. We search for partners located near Logan Airport to provide customers with more affordable parking rates and an easier booking experience. We provide details about each parking provider including location, availability, parking options (self or valet), and extra amenities offered. At Parkos, we want to make the booking and parking experience fast, easy, and stress-free by offering better options. Forget trying to park at Logan Airport and paying high parking rates, reserve parking online with us today!
Parking Reservations - Important information for Logan Airport Parking
| | |
| --- | --- |
| Number of parking providers: | 4 parking providers |
| Best Rated: | PARK, SLEEP, FLY Rodeway Inn Boston Logan Airport (King Room) |
| Cheapest: | Rodeway Inn Boston Logan Airport Parking |
| Closest to Airport: | PARK, SLEEP, FLY Rodeway Inn Boston Logan Airport (King Room) |
Affordable Boston Airport Parking near Logan International Airport
We understand that everyone wants accessible, affordable, stress-free parking. Which is why Parkos works with offsite parking providers to save you time and money. But how are they able to offer such low prices? Offsite parking providers have low business expenses allowing them to offer customers the lowest daily rates for Logan airport parking.

Location: All parking facilities are located near Logan Airport, making your travel time 15 minutes or less from the parking to the terminal, offering easy access to the airport. We want to offer a convenient, quick transition both to and from the airport which is why we only partner with parking facilities located close by.

Quality: Our partners maintain a high standard of quality to ensure the best professional, personalized experience for customers. Parkos also personally checks each location to guarantee the quality of the parking facilities and safety features. Some parking providers offer extra services and amenities such as car washing, car care, tire changes, and electric vehicle charging stations.

Reviews: We aim to make the booking and parking experience great for everyone. Parkos values your feedback and we encourage customers to leave reviews, so we can continue improving our services!
Self and Valet Parking - Boston Logan (Airport BOS)
On our website, you will often see the terms "self and valet parking" to describe our Boston airport parking options. Here we will give you information over both options to help you choose which option may be best for you.
Self Park - Logan Airport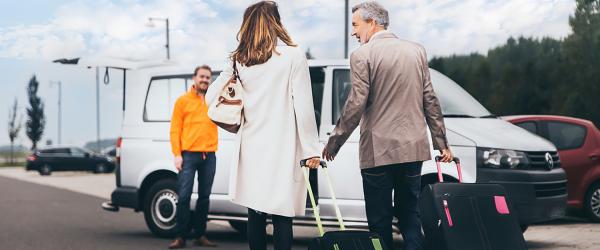 Parking Providers offer two options for parking; self-park or valet parking. If the provider offers self parking, this means you will drive to the parking location and park your car yourself after checking in. This option allows you to avoid the hassle of trying to find a parking space in one of the Logan Parking lots and dealing with the terminal traffic. You can also know exactly where your car is parked at the parking facility. After parking your car, one of the facility employees will take you by shuttle bus to the airport terminal. The provider will also offer luggage assistance and the shuttle buses are, of course, complimentary. Since you booked with Parkos online, the provider will know what time you are scheduled to arrive, ensuring the shuttle is available and on time. You also have the option to choose a provider where you leave your keys with them or keep them. When you return from your trip, you will call the parking location after collecting your baggage. The phone number can be found in your reservation confirmation email. They will then pick you up at the terminal and take you back to the parking facility. Making it an easy and fast transition both to and from the airport. Do you have any questions about self parking or parking in general? Take a look at our frequently asked questions for parking resources.
Valet Parking - Logan Airport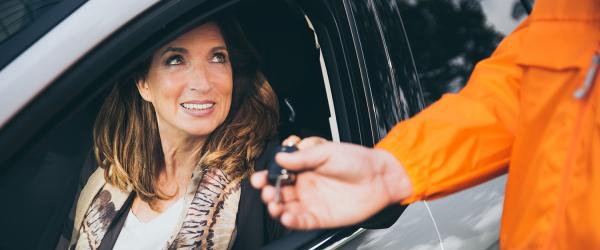 If the provider offers valet parking, you will still drive to the parking location where an employee will be waiting out front for you. After arriving at the location, one of the employees will help you unload your luggage and park your car for you. Once your car is parked, you will board one of the shuttles and be transported to the airport. Providers offer luggage assistance and of course, the shuttle buses are complimentary. Each parking location will provide instructions in your confirmation email for how to check-in, and if you must leave your keys at the facility or if you may keep them. Valet parking offers convenience for customers. Instead of parking yourself, you can relax and wait for the shuttle to arrive. You also won't have to carry any heavy luggage from your parking space to the shuttle bus. Once you return from your trip and collect your luggage, you will call the parking location. They will pick you up at the terminal and bring you back to the parking facility, and once you're back at the parking lot, your car will be brought to you. Shuttles run when you are scheduled to arrive at the parking location, ensuring you're always on time! We guarantee low prices for our valet services compared to the airport valet services offered at Logan Airport Parking. Do you have any questions about valet parking or parking in general? Take a look at our frequently asked questions for parking resources.
Parking near Boston Logan International (BOS Airport)
Whether you're looking for short term or long term parking, Parkos is your best choice. We constantly compare prices with other alternative parking platforms in an effort to guarantee the most competitive parking rates. We also personally inspect each parking facility several times a year so you can rest easy knowing you parked in a safe and secure location.
We would like to provide the following tips for Boston airport parking:

Compare different parking providers: When you compare different providers, you will save money. The proof is in our prices! Instead of settling for the parking garages at Boston Airport, you can compare prices with our parking providers and choose the option that works best for you. You will always get the lowest prices for parking without compromising on quality and accessibility. When choosing a provider, you can decide if you prefer indoor parking or outdoor parking.

Safety: We understand that you want your car to be safely parked without worrying while you're away. At Parkos, we put an emphasis on safety when looking for parking partners. That's why we evaluate each location's safety features during our personal inspections. Plus, the parking facilities offer 24hour security. We work hard to ensure your car is parked at a trusted location so you can travel stress-free.

Plan your trip: We advise you to plan your trip ahead of time and make your reservation for parking early. By using Parkos, you will have guaranteed parking and you won't have to rely on finding a parking spot at Logan Parking. Plus you won't need to worry about carrying cash with you due to our easy, prepaid reservations. Even if you don't cross any of the busy intersections or highways, you can still end up stuck in traffic. We recommend staying up to date on all traffic information including weather alerts and construction plans happening around the time of your journey. Be sure to carry a phone charger and have the Logan airport parking location pulled up on your cell phone, navigation system, or print out the directions. Also, please have your license plate info and reservation confirmation ready for check-in purposes. Need help finding your way to the parking location? Feel free to use our route planner to get driving directions.
Parking providers at Boston Logan International Airport