LAX International Airport parking map
Cheap parking at LAX International Airport
LAX offers 15 minutes of free short-term parking. After 15 minutes, rates of $7.00 for the first hour and $6.00/30 minutes after the first hour apply. Economy Lots have a rate of $5.00/30 minutes after the first $7.00-hour of parking.
San Diego Airport (SAN), Hollywood Burbank Airport (BUR), and Las Vegas Harry Reid International Airport (LAS). You can reserve inexpensive Lax Airport parking space from 105 LAX airport parking starting at $7.95 per day.

Cheap parking at LAX Airport starts with 15 free minutes of parking then $7.00 for the first one hour and $6.00 per 30 min after the first hour. The max daily rates reach up to $50.00. The best cheap airport parking lax lot are the Economy lots that can reach a daily maximum of just $30.00.

Prices are correct at the time of writing (July 2022).
LAX International airport parking rates
LAX Airport parking rates for short-term parking start at $7.00 to a maximum of $50.00/day. The UVP LAX Airport parking lots offer cheaper parking starting at $8.85/day. In fact, you can use Parkos to book the off-site lot.
LAX airport parking rates for long-term parking range between $40.00/day to $280.00 per week. Off-site long-term parking is cheaper, starting at $14.99. The long-term parking lots are located in the Central Terminal Parking area.
During the high season (July - September) parking prices tend to be higher due to high demand.
LAX International airport long-term parking
It's always a good idea to compare parking rates at LAX Airport. LAX airport long-term parking is available at the Central Terminal Parking area. You can compare the Parkos long-term parking rates and parking options at LAX to those charged for on-site LAX parking below. Premium Parking Lots charge $60.00/day. Economy lots charge $30.00/day. The prices were retrieved from LAX's official website.
On-site Economy parking with shuttle
Economy long-term parking lax airport lots are the cheapest, charging as little as $30/day. Free bus service is available.
| Daily rate | From |
| --- | --- |
| 3 days | $57.99 |
| 8 days | $96.99 |
| 15 days | $222.99 |
Off-site Long Term Parking with shuttle
If you wish to use express LAX long-term airport parking lots, free shuttles are available for your convenience.
| Daily rate | From |
| --- | --- |
| 3 days | $35.85 - |
| 8 days | $95.60 - |
| 15 days | $179.25 - |
Off-Site Long Term Parking with valet and shuttle
Cheap LAX airport parking with valet is also available. A free shuttle is available to take you to the terminals.
| Daily rate | From |
| --- | --- |
| 3 days | $60.00 - |
| 8 days | $160.00 - |
| 15 days | $300.00 - |
Off-Site Long Term Hotel parking
LAX Airport has several nearby hotels that offer various parking options. The Cambria Hostel, Hilton Los Angeles Airport, and Embassy Suites offer perfect LAX airport overnight parking to travelers. The hotels allow you to park your vehicle with ease and a free shuttle is provided in most cases. Parking in these hotels makes it easier to work out your trip details.
| Daily rate | From |
| --- | --- |
| 3 days | Coming soon |
| 8 days | Coming soon |
| 15 days | Coming soon |
LAX International airport short-term parking
Short-term parking lots are available for hourly parking in the Central Terminal area. Los Angeles Airport charges the lots at rates of $7.00/hour for the first hour. After the first hour, the costs can reach a 24-hour maximum rate of $50.00. Short-term parking spaces are available in the Driver-up General parking area.
| | |
| --- | --- |
| First 30 minutes | $6.00 |
| Each additional 30 minutes | $5.00 |
| Daily rates | $30.00 |
LAX International airport parking tips
Do you need to pick up somebody at the airport? Are you looking for EV charging stations, or are you experiencing restricted mobility? The following parking tips will help you find what you're looking for. And don't forget to read our long-term parking customer reviews.
Restricted mobility parking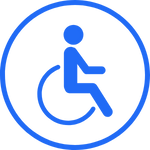 LAX offers free parking for those individuals with disabled placards or plates at the posted fee. The accessible lots are located at parking structures and the LAX Economy lots. Rates of $7.00/hour-$19/day with no discounts may apply.
Cell Phone Lots (drop-off & pick-up) at LAX International airport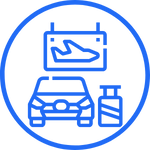 For pickup or drop off of passengers at LAX, we recommend using the free Cell Phone waiting lots. The free waiting area is on 96th St just east of Sepulveda Blvd. Drivers are advised not to leave their vehicles.
Electric Vehicle Charging Stations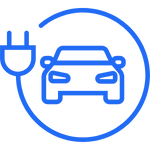 LAX Airport offers Electric Vehicle power stations located on the 2nd floor, the Economy Parking Lot, and the EV Terminal. Charging fees start at $0.4/kWh, but parking rates of $2.00 with a maximum daily of $11.00 apply. The electric vehicle charging stations are open 24/7.
Parkos offers top-quality, secure, and affordable parking, ensuring that you have a stress-free travel.
LAX International Airport parking map
Parking providers at LAX International Airport
Frequently Asked Questions
How does Shuttle parking work at LAX airport?
How does Valet Parking work at LAX?
Our benefits
All parking lots are carefully inspected
The best deals on airport parking
Free cancellation up until 24 hours
Over 3 million customers globally