LAX parking: find the best prices
Best LAX offers 15 minutes of free short-term parking. After 15 minutes, rates of $7.00 for the first hour and $6.00/30 minutes after the first hour apply. Economy Lots have a rate of $5.00/30 minutes after the first $7.00-hour of parking.
San Diego Airport (SAN), Hollywood Burbank Airport (BUR), and Las Vegas Harry Reid International Airport (LAS). You can reserve inexpensive Lax Airport parking space from 105 LAX airport parking starting at $7.95 per day.

Cheap parking at LAX Airport starts with 15 free minutes of parking then $7.00 for the first one hour and $6.00 per 30 min after the first hour. The max daily rates reach up to $50.00. The best cheap airport parking lax lot are the Economy lots that can reach a daily maximum of just $30.00.

Prices are correct at the time of writing (July 2022).
LAX International airport: Get the best rates
LAX Airport parking rates for short-term parking start at $7.00 to a maximum of $50.00/day. The UVP LAX Airport parking lots offer cheaper parking starting at $8.85/day. In fact, you can use Parkos to book the off-site lot.
LAX airport parking rates for long-term parking range between $40.00/day to $280.00 per week. Off-airport long-term parking is cheaper, starting at $14.99. The long-term parking lots are located in the Central Terminal Parking area.
During the high season (July - September) parking prices tend to be higher due to high demand.
LAX International airport long-term parking
It's always a good idea to compare parking rates at LAX Airport. LAX airport long-term parking is available at the Central Terminal Parking area. You can compare the Parkos long-term parking rates and parking options at LAX to those charged for on-site LAX parking below. Premium Parking Lots charge $60.00/day. Economy lots charge $30.00/day. The prices were retrieved from LAX's official website.
On-airport Economy parking with shuttle
Economy long-term parking lax airport lots are the cheapest, charging as little as $30/day. Free bus service is available.
| Daily rate | From |
| --- | --- |
| 3 days | $57.99 |
| 8 days | $96.99 |
| 15 days | $222.99 |
Off-airport Long Term Parking with shuttle
If you wish to use express LAX long-term airport parking lots, free shuttles are available for your convenience.
| Daily rate | From |
| --- | --- |
| 3 days | $35.85 - |
| 8 days | $95.60 - |
| 15 days | $179.25 - |
Off-airport Long Term Parking with valet and shuttle
Cheap LAX airport parking with valet is also available. A free shuttle is available to take you to the terminals.
| Daily rate | From |
| --- | --- |
| 3 days | $60.00 - |
| 8 days | $160.00 - |
| 15 days | $300.00 - |
Off-airport Long Term Hotel parking
LAX Airport has several nearby hotels that offer various parking options. The Cambria Hostel, Hilton Los Angeles Airport, and Embassy Suites offer perfect LAX airport overnight parking to travelers. The hotels allow you to park your vehicle with ease and a free shuttle is provided in most cases. Parking in these hotels makes it easier to work out your trip details.
| Daily rate | From |
| --- | --- |
| 3 days | Coming soon |
| 8 days | Coming soon |
| 15 days | Coming soon |
LAX International airport short-term parking
Short-term parking lots are available for hourly parking in the Central Terminal area. Los Angeles Airport charges the lots at rates of $7.00/hour for the first hour. After the first hour, the costs can reach a 24-hour maximum rate of $50.00. Short-term parking spaces are available in the Driver-up General parking area.
| | |
| --- | --- |
| First 30 minutes | $6.00 |
| Each additional 30 minutes | $5.00 |
| Daily rates | $30.00 |
LAX International airport smart parking tips
Do you need to pick up somebody at the airport? Are you looking for EV charging stations, or are you experiencing restricted mobility? The following parking tips will help you find what you're looking for. And don't forget to read our long-term parking customer reviews. Looking for the best routes to get to the airport parking? Please see our travel directions.
Restricted mobility parking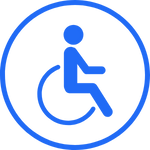 LAX offers free parking for those individuals with disabled placards or plates at the posted fee. The accessible lots are located at parking structures and the LAX Economy lots. Rates of $7.00/hour-$19/day with no discounts may apply.
Cell Phone Lots (drop-off & pick-up) at LAX International airport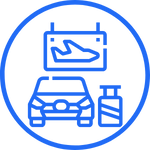 For pickup or drop off of passengers at LAX, we recommend using the free Cell Phone waiting lots. The free waiting area is on 96th St just east of Sepulveda Blvd. Drivers are advised not to leave their vehicles.
Electric Vehicle Charging Stations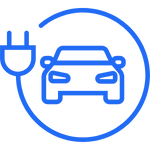 LAX Airport offers Electric Vehicle power stations located on the 2nd floor, the Economy Parking Lot, and the EV Terminal. Charging fees start at $0.4/kWh, but parking rates of $2.00 with a maximum daily of $11.00 apply. The electric vehicle charging stations are open 24/7.
Parkos offers top-quality, secure, and affordable parking, ensuring that you have a stress-free travel.
Other customers rate our parking partners with an average of 3
Parked from 9/12/23 to 9/15/23
Did not feel safe. DIdn't like not having a shuttle. Won't be using this place again.
Parking providers at LAX International Airport
Frequently Asked Questions
How does Shuttle parking work at LAX airport?

If you're planning a trip and need to find somewhere cheap to park, look no further than our Park and Fly LAX service. Here at Parkos, we have made parking a whole lot cheaper and easier for you. We provide you with information about off-site parking lots within easy reach of the airport. Also, all our lots come with a free shuttle service and professional and reliable drivers who will drop you off at your terminal on time. Just book your parking lot, and we will do the rest for you. LAX airport parking with shuttle service offers you a reliable service while paying much less than you would at the official parking lots. Our platform offers both short- and long-term parking lots along with a professional shuttle service that runs every 5 to 15 minutes. Our shuttle service has professional and friendly drivers who will help you with your luggage. Indeed, they will make sure your departure is as seamless as possible.

Park and Fly LAX is a great option for those who want to save money on long-term parking and avoid the hassle of looking for somewhere to park at the airport. Getting to the airport for an early morning flight can be stressful, particularly if you're running late. However, parking shouldn't add to your worries. Our Park and Fly LAX parking service allows you to leave your vehicle in a secure lot off-site. This service also comes with a complimentary shuttle service that will drop you at the airport terminal. Simply book your preferred parking lot online, and we will provide you with a confirmation email with shuttle times. While you are out of the country, we will look after your car for you. Upon returning from your trip, all you have to do is collect your luggage and then call the lot. The shuttle service will meet you right outside the terminal and take you to your parking lot where the driver will help you unload your luggage.


Traffic information

LAX is the world's fifth busiest airport. In the US, it is second only to New York's JFK as the nation's busiest airport. On any given day, over 250,000 people work at or travel through Los Angeles International Airport (LAX), which is located less than 20 miles from downtown Los Angeles. Although LAX has nine passenger terminals and four runways, it only has a single official parking lot. This is why our Park-and-Fly services are the perfect solution for travelers. It provides you with a cheaper and safer parking solution, which will allow you to leave your car in a safe and cheap parking lot. Regarding traffic information, travelers can find real-time traffic information on Google Maps. You can use this guide to learn more about directions, driving times and parking options at one of the country's most popular airports. In some cases, the fastest route will be to take an alternate freeway rather than the most direct route due to traffic conditions.


How does Valet Parking work at LAX?

The best valet parking LAX services mean that your trip gets off to a fabulous start. Complete your booking online, and someone from your chosen parking provider will meet you at the airport. From the moment you hand over your keys, you can stop worrying about your car. You can also choose to book the self park LAX and shuttle service. The choice is yours.

Valet parking is ideal if you have heavy luggage to carry. Just drive to your designated meeting location and a trusted driver of the valet parking service provider will greet you. The employee will help you with your luggage, and then you can immediately proceed to the check-in desk.

Continue your journey

Before handing over your car to the valet service, the attendant will assist you with your luggage and will inspect the vehicle with you for any existing damage. Then you carry on into the airport to prepare to board, while they safely park your car in their secure location.

Your car will be in the secure parking lot owned by the valet service provider you have chosen. To allow you to travel without worry, Parkos has personally inspected these parking sites for safety. In fact, they regularly check all of their listed valet services for safety and security.

On return

Please contact the parking provider once you arrive at the airport. The car park employee will then deliver your vehicle to the agreed-upon spot at LAX Airport. Your car will be waiting for you when you return. You will be given the keys to your vehicle, and you will inspect it again to ensure there is no damage.

Advantages and disadvantages

Valet parking is extremely convenient and comfortable parking. However, there are still some disadvantages. Because Parkos strives to give the best parking services to its customers, we have listed all the pros and cons of valet parking. Read on, so you can make a decision whether it is right for you or not.

Advantages

Time efficiency. You hand over your car straight in front of the airport entry at LAX airport and receive it immediately. As a result, you don't have to waste time waiting for a shuttle or looking for parking at the airport. LAX airport valet parking is great for all those who are looking to save time.

Convenience. With airport valet parking, you won't have to worry about locating a parking spot or carrying your bags because you'll arrive directly to your terminal's entrance. Furthermore, you are not dependent on shuttle parking, making it straightforward to get to LAX Airport. Valet parking is a terrific convenience that ensures a stress-free start to your journey.

Disadvantages

Trust. The parking attendant is in charge of parking your vehicle. As a result, you have no idea where your vehicle is or what condition it is in. You must trust the parking service provider for the safety of your vehicle. Parkos thoroughly inspects parking spaces before offering their valet parking service in LAX on our website.

Cost. Obviously, valet parking is a costly service. It is more expensive because the valet is responsible for driving and parking the car, as well as providing a pick-up and drop-off service from the airport. They also securely store your car for the duration of your trip. Certainly, it is a more luxurious type of service that usually comes at a larger expense.
Our benefits
All parking facilities are carefully inspected
The best deals on airport parking
Free cancellation up until 24 hours
4M+ customers globally