Information
Parking providers
7
Top rated
Ramada Plaza Hotel (LAX)
Cheapest
Sonesta Hotel (LAX)
Closest to the airport
Ramada Plaza Hotel (LAX)
LAX Airport Parking
Los Angeles International Airport, also known as LAX, is one of the busiest airports in the world. In 2018, over 87 million passengers traveled through LAX (see also Wikipedia). With millions of passengers coming through its terminals every day, LAX is the fourth busiest airport in the world, and the second busiest in the United States. Los Angeles International Airport is located in Southwestern Los Angeles, only 18 miles from downtown LA. With nine terminals, LAX is a major hub for both domestic and international travel. LAX serves as the main international airport for Los Angeles and the state of California. Los Angeles International LAX is the largest and busiest on the West Coast compared to Oakland Airport, John Wayne Airport, San Francisco Airport, and San Diego Airport.
Passengers LAX
| Year | Amount |
| --- | --- |
| 2013 | 66,667,619 |
| 2014 | 70,662,212 |
| 2015 | 74,936,256 |
| 2016 | 80,921,527 |
| 2017 | 84,557,968 |
| 2018 | 87,534,384 |
Los Angeles International is considered a gateway into the United States and is ranked among the top five best U.S. airports. LAX is also one of the world's busiest origin and destination airports, as many travelers begin or end their journey in LAX instead of passing through to a connecting flight. Los Angeles International is a hub for many major airlines including Delta, United, Southwest, and American Airlines. With many different airlines and flight options, you can easily reach other major hubs in the United States or Internationally. Other major airports you can fly to from LAX include Chicago O'Hare, Philadelphia Airport, Boston's Logan Airport, Midway Airport, Washington dc, Atlanta Airport Phoenix Sky Harbor, Houston Hobby Airport, and Orlando airport.
Near LAX airport, you can find plenty of airport hotels to stay before or after your flight. In case you have an early morning flight, you may choose to stay at a nearby hotel such as Holiday Inn or Hilton LAX.
Although LAX offers their own terminal parking, there may not always be suitable spaces for your needs. Los Angeles airport parking can also become expensive. Parking your car at the airport isn't always worth the hassle and stress of trying to find an available space. Here at Parkos we offer alternative LAX parking options to ensure travelers receive great parking at a great price. We provide detailed descriptions of the parking facilities including location, method of parking (self or valet), and availability. We want to make travel easier for you by offering accessible parking spaces and affordable parking rates. You can compare parking facilities and reserve your parking space online with us.
LAX Parking Rates
Nobody wants to spend too much time or money parking at the airport. That is why Parkos collaborates with different parking providers near LAX. But how are they able to offer low prices? Offsite parking providers have low business expenses, allowing them to offer affordable prices to their customers, while also providing excellent customer service.

Location: All parking facilities are located near the airport. Your travel time from the parking lot to the terminal will be no more than 20 minutes by shuttle. We want to offer a convenient and smooth transition from the parking lot to LAX, which is why we only partner with LAX parking providers nearby.

Quality: The parking lots maintain a high standard of quality to ensure the best experience for our customers. Parkos personally checks the facilities and their services to ensure the best quality. The LAX parking providers also offer extra services such as car washing or electric vehicle charging stations to create a personalized, professional experience.

Reviews: We strive to make the booking experience as easy as possible for everyone. We value our customer's feedback and encourage reviews. Parkos wants to hear about your experiences to continue improving!
Self and Valet Parking - LAX Airport Parking
On our website, you will always see the terms "self park and valet parking" to describe the parking options from our parking providers. Here we will give you information over both options.
Self Park - LAX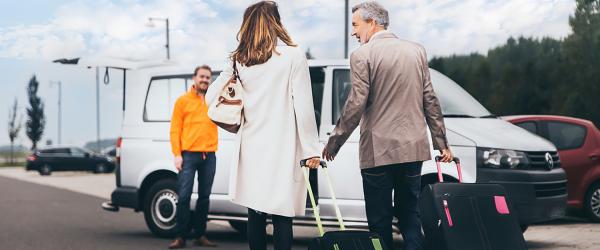 Our parking providers offer two options for parking; self park or valet parking. If the provider offers self park, this means you will drive your car to the parking facility and park your car in one of their parking spaces. This option allows you to avoid the hassle of trying to find your own parking space at the airport and dealing with the traffic of airport parking lots. After parking your car in a space, an employee of the facility will take you by shuttle bus and drive you to the terminal. The parking providers also offer luggage assistance. Since you booked with Parkos online, an employee at the facility will know when you are set to arrive, ensuring the shuttle is always on time! Of course, it is a complimentary shuttle. You can also choose a provider where you either leave your keys at the facility or take them with you. When you return from your trip, you will call the provider after collecting your bags at LAX baggage claim and they will pick you up by shuttle, taking you back to the parking location. Making it an easy and quick transition both to and from the airport! Do you have any questions about self parking or parking reservations at Parkos? Take a look at our frequently asked questions.
Valet Parking - LAX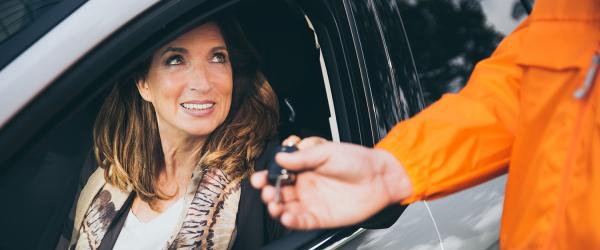 If a provider offers valet parking, you will drive to the parking location where an employee of the facility will be waiting. After arriving to the location, an employee will park your car for you. Once your car is parked, you will board one of the shuttles and be transported to the airport. Our parking providers also offer luggage assistance, and of course it is a complimentary shuttle. Each parking location profile will provide instructions regarding your valet parking, including if you will need to leave your keys or if you may take them with you. Valet parking offers convenience for our customers. Rather than walking from your parking space with heavy bags, or finding your own parking spot, you can now relax and wait for the shuttle. Once you return from your trip, you will call the parking location after collecting your baggage and board a shuttle taking you back to the parking lot. You can find the phone number for the location in your confirmation email. Once you arrive back at the parking location, your car will be brought to you by an employee, and you can continue your journey home. The shuttles run when you are scheduled to travel to and from the airport, ensuring you are always on time and have a shuttle available. We guarantee low prices for our valet services compared to those offered at LAX Airport parking. Do you have any questions about valet parking or parking reservations at Parkos? Take a look at our frequently asked questions.
LAX Long Term Parking
Whether you're looking for short term or long term parking, Parkos is your best choice. We constantly compare rates with other alternative parking companies in an effort to offer you the most competitive prices. We also personally inspect each parking facility so you can rest assured that you are parking in a safe, reliable parking lot.
We would like to provide the following tips for Los Angeles Airport Parking:

Compare different parking providers: When you compare different parking options, you will save money. The proof is in our prices at Parkos. Instead of choosing an economy lot from LAX, you can compare prices from one of our parking providers. You can find low prices for daily rates without compromising quality and accessibility. When choosing a provider, you can decide if you want indoor or outdoor parking.

Safety: We understand that you want your car to be safely parked, without worrying about something happening while you're away. At Parkos, we like to emphasize safety with our parking providers. Which is why we evaluate the safety features of each lot as part of our personal inspections. Furthermore, all of the parking facilities are monitored 24/7. We work hard to ensure your car is safe so you can travel stress-free.

Plan your trip: We advise you to plan your trip ahead of time and start comparing Los Angeles airport parking providers with Parkos. By using Parkos, you won't have to rely on the long term parking at LAX which can become expensive. Even if you don't cross all the busy highways and streets, you could still get stuck in a traffic jam. We recommend staying up to date on traffic information, including any construction plans occurring around the time of your trip. Be sure to carry a phone charger and pull up the parking lot location on your mobile device or GPS. Also, have your license plate info and reservation confirmation ready for check in purposes. To plan your trip, use our route planner to get driving directions.
Information
Parking providers
7
Top rated
Ramada Plaza Hotel (LAX)
Cheapest
Sonesta Hotel (LAX)
Closest to the airport
Ramada Plaza Hotel (LAX)
Parking providers at LAX International Airport
Frequently Asked Questions
How does Shuttle parking work at LAX airport?
How does Valet Parking work at LAX?
The benefits of Parkos
All parking lots are carefully inspected
The best deals on airport parking
Free cancellation up until 24 hours
Over 2 million customers globally