Get the cheapest parking at Memphis International Airport
Memphis Airport serves both the military and the civilian population. In addition, it ranks as the busiest cargo handling airport in the US. As a result, it also has a plethora of parking options for passengers. But the official Memphis airport parking can be expensive, unsafe, or just downright inconvenient, all depending on your needs. And this is especially true for long term parking Memphis airport.
Premium Parking P2714 is the closest private parking at Memphis airport. Being situated just north of the airport, it is less than 5 minutes drive away. Its pricing starts at $6 to $24 per day depending on where you park. Located on American Way, Comfort Inn and Suites is the other nearby private parking option available. And its pricing starts at [$48.65 per week]. At such affordable rates, both lots also offer plenty of amenities to their customers.
Prices are correct at the time of writing (July 2022).
Save Big on Memphis International airport parking rates
Starting at $3 per day, short-term parking options are available across all three parking lots. The first 30 minutes are free. For the next 30 minutes, the short-term and long-term parking lots charge $2 each, with every additional 30 minutes charged at $1. And the economy lot charges you $1 if you run over the free time window and a flat $6 for exceeding 90 minutes. This makes it ideal for visitors and drop-offs. However, things are different with Memphis airport long term parking as we will show next. Overall, the official parking lots can come across as costly and lacking in features. This is especially true if you have some knowledge of what you want and for how long you want it.
During the high season (July - September) parking prices tend to be higher due to high demand.
Memphis International airport cheap long-term parking
Getting affordable long term parking at Memphis airport is a breeze with Parkos. Indeed, if you're planning to use the airport, you can refer to the pricing tables below. You can tally the off-site prices and parking options at MEM against those charged for on-site MEM parking. Besides, the airport website lets you look up the official parking lot prices. For complete details, just follow this link.
On-Airport Economy parking with walkway
The Ground Transportation Center's pedestrian walkway connects economy parking areas with the terminal, taking you directly to Terminal B. From there, go two levels up for ticketing and security.
| Daily rate | From |
| --- | --- |
| 3 days | $18.00 |
| 8 days | $48.00 |
| 15 days | $90.00 |
Off-Airport Long Term Parking with shuttle
At the MEM airport, self-parking entails parking your own vehicle. You can go to the airport terminal quickly and for free with a shuttle service.
| Daily rate | From |
| --- | --- |
| 3 days | $20.85 - |
| 8 days | $55.60 - |
| 15 days | $104.25 - |
Off-Airport Long Term Parking with valet and shuttle
Looking for extra comfort? With valet service parking at Memphis airport the parking provider will park your for you. A free shuttle will drive you to the airport.
| Daily rate | From |
| --- | --- |
| 3 days | Coming soon |
| 8 days | Coming soon |
| 15 days | Coming soon |
Off-Airport Long Term Hotel parking
Near the MEM airport, a few of hotels and motels provide long-term parking choices. Most of the time, a complimentary shuttle is offered to the airport.
| Daily rate | From |
| --- | --- |
| 3 days | Coming soon |
| 8 days | Coming soon |
| 15 days | Coming soon |
Memphis International airport low-priced short term parking
Short-term parking features a total of 487 spaces. And these are all situated on the ground level of the three-story parking system. Moreover, the space can be accessed directly from all three terminals and is available across all three parking lots. The first 30 minutes are free. For the next 30 minutes, you're charged $2. Every additional 30 minutes cost you $1, with a 24-hour maximum of $24.
| | |
| --- | --- |
| First 30 minutes | Free |
| Each additional 30 minutes | $1.00 |
| Daily rates | $24.00 |
Memphis International airport smart parking tips
Require a charging station for your electric vehicle? Need a waiting area to pick up incoming passengers? Want options for restricted mobility? The amenities below will help you with these. Also, read what our customers have to say about airport long-term parking. Looking for the best routes to get to the airport parking? Please see our travel directions.
Restricted mobility parking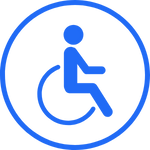 The airport has 134 accessible parking spaces across its facilities. And these are located very close to the terminal passageways and elevators. Also, wheelchair access is available for departing passengers at the curbside check-in and ticket counters. Besides, frequent parking earns you points to receive 10% in cashback.
Cell Phone Lots (drop-off & pick-up) at Memphis International airport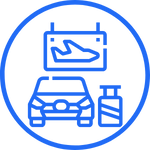 Need to drop off or pick up someone at the airport? Indeed, Memphis airport features a complimentary cell phone lot waiting area for you. Safe and free, one can wait for arriving passengers at ease without having to pay for parking. Moreover, it's mere seconds away from the terminal, making it highly convenient.
Electric Vehicle Charging Stations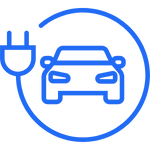 Charge your electric vehicle in one of two places. The North Garage has direct connectivity to the terminal. The South Garage has link to the terminal via a passageway. Both are covered facilities. This ensures a secure and hassle-free experience when it comes to restoring your electric transport.
Other customers rate our parking partners with an average of 5
Parked from 11/29/22 to 12/13/22
The shuttle was ready when we arrived. Upon our return, the shuttle arrived at the airport within 15 minutes of our call. The drivers were both very friendly. As for the parking lot, it was well lit and appeared very secure. We have parked here before and would do so again.
...Read more
Parking providers at Memphis International Airport
Our benefits
All parking facilities are carefully inspected
The best deals on airport parking
Free cancellation up until 24 hours
4M+ customers globally