Fresno Yosemite International Airport parking map
Cheap parking at Fresno Yosemite International Airport
Fresno airport is 5 miles from the city of the same name. It is the primary airport for Yosemite, the San Joaquin Valley, and Kings Canyon national parks. The airport served around a million passengers in 2020. The neighboring airports are San Francisco International Airport and LAX Airport Parking. Parkos provides Fresno airport long term parking and short-term parking. Read on to learn about Fresno airport parking.
Fresno airport has a variety of parking options for all types of travelers. Parking fees at Fresno Airport are cheap compared to other airports. Short-term parking is the most expensive, but closest to the terminals. The long-term parking is cheaper. Economy parking charges are $8 per day at Fresno. Parkos helps people with the best deals. Best Western costs $3.98 daily when you book your space with us.
Prices are correct at the time of writing (July 2022).
Fresno Yosemite International airport parking rates
Fresno Yosemite International Airport parking can be expensive, as it is at most airports. The cost of lodging at Fresno Yosemite International Airport varies depending on the location, time of year, and length of stay. Options for short-term parking range in price from $3 per half-hour to $14 per day. There are cheap lots available on airport property for $8 per day. These parking areas provide a free shuttle service to and from the terminals. Moreover, at Parkos, you can search for parking spaces using dates, payment options, and parking services provided. Parkos also provides optional parking spaces around Fresno airport. Therefore, you can find the one which suits your needs and budget.
During the high season (July - September) parking prices tend to be higher due to high demand.
Fresno Yosemite International airport long-term parking
Fresno Yosemite International Airport offers a variety of parking options for travelers, including short-term, long-term, and economy parking. The rates for these parking options vary depending on the time you will be parked at the airport. At Fresno International Airport short-term parking rates start at $1 per hour, while long-term parking rates start at $1 for the first 2 hours. Economy parking rates start at $8 per day, according to the official website.
On-site Economy parking with shuttle
The economy parking lot offers a free bus service that takes passengers to and from the airport. Economy parking is a great option for those who are looking to save money on their long-term parking needs.
| Daily rate | From |
| --- | --- |
| 3 days | $24.00 |
| 8 days | $64.00 |
| 15 days | $120.00 |
Off-site Long Term Parking with shuttle
Self parking at Fresno airport is a great way to save time and money. You can park your car yourself, and a free shuttle service will take you directly to the airport terminal. This service is convenient, reliable, and affordable.
| Daily rate | From |
| --- | --- |
| 3 days | $23.85 - |
| 8 days | $63.60 - |
| 15 days | $119.25 - |
Off-Site Long Term Parking with valet and shuttle
Valet service parking is available at Fresno airport. With this service, you don't have to worry about finding a parking spot or driving to the airport. A free shuttle will pick you up and drop you off at the airport.
| Daily rate | From |
| --- | --- |
| 3 days | Coming soon |
| 8 days | Coming soon |
| 15 days | Coming soon |
Off-Site Long Term Hotel parking
Many hotels and motels in the area offer long-term parking options, often with a free shuttle to the airport thrown in. So whether you're taking a business trip or going on vacation, you can rest assured your car will be safe and sound.
| Daily rate | From |
| --- | --- |
| 3 days | Coming soon |
| 8 days | Coming soon |
| 15 days | Coming soon |
Fresno Yosemite International airport short term parking
The airport has short-term parking for a fee. Furthermore, the rates are hourly, daily, and weekly. The short-term parking lot location is directly across from terminals A, B, and C. Additionally, short-term parking at EWR is charged in blocks of 30 minutes. Moreover, on the first day, after 20 mins, up to 4 hours, they charge $1. In the following hours, they charge $12, then drop to $8.
| | |
| --- | --- |
| First 30 minutes | - |
| Each additional 30 minutes | - |
| Daily rates | $8.00 |
Fresno Yosemite International airport parking tips
Suppose you are collecting a friend at Fresno Airport; here are a few tips for parking. First, there are two main parking areas, the Cell Phone Lot and the Economy Lot. The Cell Phone Lot is for waiting for arriving passengers only.
Restricted mobility parking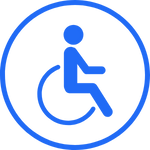 Persons with visible official permits are able to park at the limited mobility parking spots which are available in lots 1,2, and 3 and garage level 1. The first two hours are free. After that, the rate is $3 per hour with a maximum daily rate of $14.
Cell Phone Lots (drop-off & pick-up) at Fresno Yosemite International airport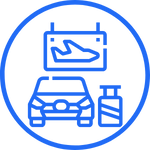 We recommend using the cell phone next to the economy parking lot for pickup or drop-off passengers. The cell phone lot is free and available for use 24/7. This lot is only a 5-minute walk away from the terminal. Drivers should not leave the vehicle unattended while in the lot.
Electric Vehicle Charging Stations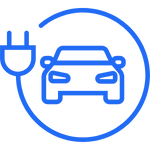 There is no shortage of EV charging stations at the airport They are located in garages 1,2 and 3 (levels 1-3 in garage 1). The rate for all these garages is $3 an hour with a $14 daily flat rate. The charge for a lost ticket is $14.
Fresno Yosemite International Airport parking map
The benefits of Parkos
All parking lots are carefully inspected
The best deals on airport parking
Free cancellation up until 24 hours
Over 3 million customers globally