Tucson International Airport parking map
Huge deals on parking at Tucson International Airport
Tucson International Airport is the second busiest airport in the state of Arizona. The number of passengers is always going up, so there's increasing pressure on parking at Tucson Airport. We can find parking for you in the long-term or short-term zones at low prices. And, you can compare providers, to find the best deal. Parkos can take the headache out of Tucson airport parking.
There is a range of long term parking Tucson Airport. The airport has four long-term parking areas. There are three parking lots within the airport. The garage has either hourly or long-term stays. The other two areas, give you the convenience of using the shuttle bus. The bus arrives every 15 minutes. You can either wait at your car or in a sheltered area.
Parkos allows you to find the best long term providers at per day rates. All of our operators are personally vetted, so you can rest assured that you are safe to park with them. Tucson International Airport parking can be difficult to find, especially in the limited long term spaces. So, why not take the worry out of finding parking and use Parkos.
Save big with affordable parking near Tucson airport

This airport has a number of parking options. There are six on-site parking choices and some cheaper off-airport options. Parkos compares all of Tucson Airport economy parking choices, to help you find the most suitable one. We also look at off-airport parking, as this can be a very cost-effective choice. All of our parking providers have to meet our standards of safety and security.

Not only does Parkos find you the Tucson Airport long-term parking cheapest, but we also make sure it's of the highest quality. We vet all of our providers. Parkos looks at the services they provide and at their sites. If the sites are not well-lit and safe, we don't recommend them. We also check the airport sites on a regular basis.

It's not always wise to wait until the last minute to book your parking. As the parking spaces run out, the rate for each space can increase. Parkos has a wide network of providers, which means that we can give competitive comparison of prices. We aim to give the cheapest Tucson airport daily parking rate, even on short-term stays.
The best parking options at Tucson International airport
We offer three parking options at this airport. There is shuttle parking, valet parking, and hotel parking (park, sleep, fly). Also, Tucson gives passengers the choice of either parking under solar canopies or in the Tucson Airport parking garage. Both are available for long and short stays. Let's take a more detailed look at the three parking choices below.
Self-park Shuttle parking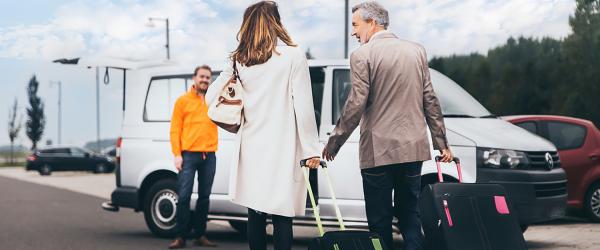 There are two types of shuttle parking. They are both available for long term parking. The first type lets you wait at your car for the shuttle, or at a covered area. The other type means you can wait at your car. Whichever option you choose, Parkos will find the best long term parking at Tucson Airport for you.
Valet parking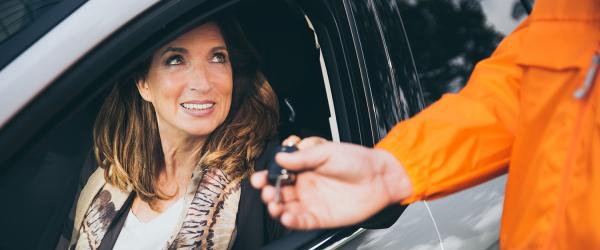 This parking option gives you the convenience of being able to walk straight from your car into the departures terminal. It also means that when you return, your car will be waiting for you at a designated spot. This option is not the cheapest, but Parkos can help to reduce the costs. The Tucson Airport parking fee still applies to valet parking.
Tucson airport hotel and parking
There is nothing worse than having to get up in the middle of the night to catch an early flight. Many passengers prefer to stay at a hotel the night before the flight. Parkos can find you parking in the Tucson Airport covered parking areas. You can park your car, go to the hotel and have a relaxing, worry-free evening.
Affordable long stay parking at Tucson airport
Long-term parking near Tucson airport is readily available. Parkos has many providers who have both on-airport and off-airport long-term options. We work hard with our providers to bring you the best deals. There are two on-airport options, at Corona Road and in the garage. We have a number of off-airport providers. Parkos personally checks all of our providers to make sure their facilities are safe.

Each of these options suits different passengers. Shuttle parking is perfect if you have time to wait for the shuttle. Valet parking is right for passengers who want the convenience of stepping out of the car into the airport. And hotel parking is right for early flights. You will find that parking at Tucson International Airport has all of this to offer.

Making sure that safety is maintained at Tucson Airport parking lots is always at the forefront of our minds. We vet all of our providers to make sure that their services meet our standards. Also, we regularly check the airport parking lots. The areas have to be fenced off, well-lit, equipped with security cameras and kept to a high standard.

We recommend that you plan your journey to the airport well in advance. By using a route planner, you can work out the quickest route, with the least traffic. After all, it can be really frustrating if you're stuck in traffic when you have a plane to catch. It's also a good idea to make sure you know where your parking area is.

When you choose Parkos, you know that you're only seeing vetted and highly rated providers. You also know that we work with them to bring you the cheapest prices possible. We also check the parking areas regularly to make sure they meet our safety and security standards. With Parkos, you can feel confident that we will find the best prices for you.
Tucson International Airport parking map
Our benefits
All parking facilities are carefully inspected
The best deals on airport parking
Free cancellation up until 24 hours
4M+ customers globally