Get cheap parking at Chicago O'Hare International Airport
O'Hare International Airport (ORD), simply known as Chicago Airport, is located in Chicago, Illinois, 27 km(16.78miles) northwest of Chicago Loop. Other nearby airports include Indianapolis (IND) and Milwaukee (MKE). O'Hare Airport parking offers the best services and top-quality amenities for your vehicle. Parkos allows you to locate inexpensive and secure parking at O'Hare Airport.
Parking at O'Hare Airport is costly and sometimes stressful. The best way to get cheap parking at the Airport is to use off-airport parking. Parkos offers a variety of off-site parking lots for as little as $4.00 per day. Parking near O'Hare Airport allows you to save money while on a travel budget. The table below compares the parking options offered at Parkos.
Prices are correct at the time of writing (July 2022).
Affordable airport parking rates at Chicago O'Hare International
O'Hare Airport offers three parking options: Economy Lot, Daily Lot, and Daily Parking Garage. Hourly prices at the Main Garage range from $3.00-$77.00. Lots B&C of the Main Garage charge $3.00-$24.00. Valet Parking charges $26 for 8 hours and $64.00/day.
Short-term parking at ORD is charged $3.00 for the first hour to a maximum of $77.00/day. Chicago OHare airport parking is stressful and costly, and it's not economical to use short-term parking for extended stays.
Long term parking at O Hare is available at the Economy Lot, and it costs between $15.00 to $22.00 per day. Off-airport long-term parking at O'Hare ranges from $15.00 to $39.00 per day to $63.00 a week.
During the high season (July - September) parking prices tend to be higher due to high demand.
Chicago O'Hare International airport cheap long-term parking
It's always a good idea to compare ohare parking rates. Long-term parking at ORD is available at the Economy Lot. Check out the comparisons between Parkos long-term parking rates and parking options at to those charged for on-site ORD parking. Economy Lot E charges $17/day, Lot G $15.00/day, and Lot F $22.00/day. Parking prices were retrieved from O'Hare International Airport's official website.
On-airport Economy parking with shuttle
O hare parking cost for Economy is the most economical. It can be reached by boarding an ATS for free.
| Daily rate | From |
| --- | --- |
| 3 days | $45.00 |
| 8 days | $120.00 |
| 15 days | $225.00 |
Off-airport Long Term Parking with shuttle
Self-parking at ORD Airport allows you to park yourself. Ohare overnight parking will cost $15.00 if you are parking on-airport.
| Daily rate | From |
| --- | --- |
| 3 days | $20.85 - |
| 8 days | $55.60 - |
| 15 days | $104.25 - |
Off-airport Long Term Parking with valet and shuttle
ORD offers valet service parking. If you wish to use it, a free shuttle will drive you to the airport.
| Daily rate | From |
| --- | --- |
| 3 days | $35.97 - |
| 8 days | $95.92 - |
| 15 days | $179.85 - |
Off-Airport Long Term Hotel parking
Several hotels and motels offer long-term parking options near O'Hare International Airport. Comfort Inn Arlington Heights Chicago O'Hare, Hampton Inn, and Wyndham Chicago O'Hare hotels have ORD parking packages available to travelers. These hotels allow you to park your vehicle overnight and take a free shuttle the following day straight to the airport.
| Daily rate | From |
| --- | --- |
| 3 days | Coming soon |
| 8 days | Coming soon |
| 15 days | Coming soon |
Chicago O'Hare airport cheap short term parking
Short term parking lots are located close to terminal 5. ORD charges $6.00 for the first two parking hours and can reach a maximum of $77.00 per day. You can make payments to the cashier upon exiting the lots. The table below shows how parking rates for short-term parking at O'Hare Airport compare.
| | |
| --- | --- |
| First 30 minutes | $3.00 |
| Each additional 30 minutes | - |
| Daily rates | $15.00 |
Chicago O'Hare airport smart parking tips
Are you experiencing restricted mobility? Is your car out of battery or are you, dropping-off somebody? Make sure you read the following parking tips to help you know your way around the airport. Also, don't forget to read airport long-term parking customer reviews. Looking for the best routes to get to the airport parking? Please see our travel directions.
Restricted mobility parking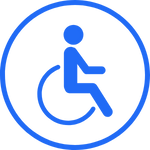 O'Hare has several amenities that help you relax and travel comfortably. The airport's on-airport hotel has a fitness center, a pool, and a yoga room. ORD has accessible parking spaces available in all parking facilities. Parking discounts are unavailable. Regular prices ($15/day) apply to the disabled.
Cell Phone Lots (drop-off & pick-up) at Chicago O'Hare airport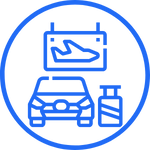 ORD offers many convenient options to drop off easily and pick up passengers. The drop-off point is located on the northwest corner of the Multi-Modal Facility. The pick-up point has a 15-minute parking limit. The Cell Phone Lot is located on North Bessie Coleman Drive.
Electric Vehicle Charging Stations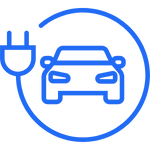 Thirty-two public level II EV Stations are available at ORD. Fourteen level III stations are available at the Chicago Travel plaza. Six of the level II EVs are located in level 1 of the Main Garage adjacent to the domestic terminals. Charging is free!
Parkos offers top-quality, secure, and affordable parking, ensuring that you have stress-free travels.
Other customers rate our parking partners with an average of 3.5
Parked from 2/9/23 to 2/13/23
Don't park here the trip to the airport was fine. When came to the pickup it was a disaster. I called for the pickup and told them we were at the pickup location. The person on the line told me it would be a 45 minute wait. After an hour still no pickup so I called again and he said it would be another 10 minutes. So 20 minutes later still no van so we left and decided to take an Uber. Half way there he called and said his brother was outside. I told him forget it and that we were taking and Uber after waiting an hour and twenty minutes. Then he tried to tell me that it wasn't an hour yet I just hang up. He tried to call me again but it wasn't to deal with it so I didn't pick up my mind was made up. I really just want a refund for my aggravation.
...Read more
Parked from 5/4/23 to 5/8/23
The company wasn't even aware that they booked a closed location. If I hadn't given myself an extra hour I would have missed my flight. Customer service couldn't find anywhere else for me to park, having to find somewhere else to park, pay twice as much, not even being refunded my deposit yet... If 0 stars was an option I'd go with that rating. Not a great experience
...Read more
Parking providers at Chicago O'Hare International Airport
Frequently Asked Questions
How does Shuttle parking work at O'Hare airport?

You don't need to look further if you need to park your car when flying out of O'Hare airport. Here at Parkos, we provide the best Park and ride O'Hare airport shuttle service for all of our customers. Indeed, O'Hare airport parking with shuttle service has never been simpler. All you have to do is reserve a parking spot on our website, and we'll send you shuttle information. We provide the cheapest off-site parking with a dependable and professional shuttle service thanks to our airport parking comparison platform. As a result, we can assist you in saving time and money before your vacation even begins. We work with airport parking suppliers around the airport to supply both long- and short-term parking lots. On our website, you can check parking rates at O'Hare Airport and select from a variety of possibilities. We work directly with parking providers to give our customers a professional yet welcoming atmosphere. A complimentary shuttle service runs every 30 minutes, and our parking providers will assist you with your bags.

Despite the fact that O'Hare International Airport has its own airport terminal parking lots, the fees can be very high. There are also insufficient spaces to accommodate the large number of travelers who utilize this airport on a daily basis. As a result, we choose to provide travelers with an off-site parking option for both short- and long-term stays. We also offer a complimentary shuttle service that will pick you up from your parking spot and take you to the airport terminal. Our 11 suppliers are all within 11 minutes of the airport terminal, ensuring that you will never be far from it. Our Valet and self-parking services are among the parking options. You can park your car wherever you like, whether you prefer a covered parking lot or outside parking. Although weekly parking costs range from $55.60 to $170.50, the costs, however, are subject to change depending on the season. So, whichever O'Hare Airport parking option you choose, you can rest easy so that your vehicle is in safe hands.

Traffic information

With so much traffic on the highways these days, arriving at the airport on time can be difficult. Weekends and rush hour traffic might create delays, so plan your route carefully. Staying up to date on the latest traffic status is recommended to avoid arriving late. Although you can go to O'Hare International Airport by train or taxi, driving is by far the most convenient and time-saving choice. The roadways are frequently congested. Consequently, traffic jams and delays are common at O'Hare International Airport road. As a result, we urge taking extra precautions. Check the busy routes to see if any construction work or traffic may cause you to miss your flight. When you book a parking spot with us, look through our locations and select one that is most convenient for your journey. The GPS location we offer you when you book with us will make your travel easier. We recommend that you arrive two hours before the flight to avoid any unwanted delays.

How does Valet Parking work at O'Hare International Airport?

Valet parking O'Hare is a great idea for beginning your trip in comfort. Parkos assures to help you find the best valet services at Chicago's O'Hare airport. Trust us when arranging your convenient and stress-free valet parking service. With 24-hour customer support, Chicago O'Hare Airport parking can be a breeze.

If you often find yourself rushing to make your departure, you would be wise to consider a valet service. Book ahead with Parkos — ensure yourself plenty of time to make your flight. Once you make your reservation, you will receive a confirmation email with directions and details. Upon arriving at your departure terminal, your valet service will be there waiting for you, making parking easy.

Continue your journey

On the day of your journey, simply pack your bags into your own vehicle and drive to O'Hare Airport. When you arrive, you will be greeted by a staff member from your chosen valet service provider. Because you will have given your vehicle's plate number while booking, they will be able to help you quickly and your trip will be off to a smooth start.

After a quick inspection at the meeting spot, the valet attendant will take your vehicle. Then you can check-in for your trip and relax. Meanwhile, the driver will securely transport your vehicle to the parking area and park it. All thanks to Parkos, which allowed you to book an affordable parking place from the comfort of your own home.

On return

Simply pick up your luggage and proceed to the prearranged meeting spot at O'Hare Airport on your return. When you arrive, the courteous staff from your reserved parking provider will be ready for you with your vehicle. You only need to take the keys and the vehicle to make your way home. Parkos makes parking simple.

Advantages and disadvantages

Valet parking is certainly one of the easiest and quickest ways of solving the airport parking problem. While it may be ideal for both regular and business travelers, it can be a costly service for some. We've listed the most relevant advantages and disadvantages for you so you can decide whether valet parking is right for you.

Advantages

Time efficiency. One of the biggest advantages is time efficiency. You can leave your vehicle in front of the airport entry at O'Hare Airport when you arrive, and it will be delivered back to you upon return, without any time wasted. With this, you don't have to hunt for airport parking, worry about arriving by public transport, or waiting for a taxi.

Convenience. Another big advantage of valet service at the airport is maximum convenience. You don't have to worry about finding a parking place or carrying your luggage since airport valet parking takes you directly to the airport door. Parking without worry leads to a stress-free beginning to your vacation or trip.

Disadvantages

Trust. The entire process is based on trust, which can be a disadvantage for some. Although you can always look at photos of the company's parking area on our webpage, you won't be able to see it with your own eyes. The only people allowed into the parking area are the valet service staff.

Cost. Using valet parking is a more premium form of parking at O'Hare Airport in comparison to other forms of parking. In most situations, the parking providers charge a relatively higher fee for this additional pick-up and delivery to the airport parking. For those who do not consider cost a barrier, a valet service is a good option.
Our benefits
All parking facilities are carefully inspected
The best deals on airport parking
Free cancellation up until 24 hours
4M+ customers globally