Cheapest parking at Oakland International Airport
Oakland International Airport (OAK) is the closest airport to the San Francisco Bay Area. It is located in Oakland, California, and is a major hub for Southwest Airlines. The closest airport to Oakland International Airport is San Francisco and San Jose International Airport. In addition, Oakland airport parking is known for its convenient services. OAK parking is at one of the busiest airports in the USA.
Fortunately, OAK is a convenient and affordable airport for travelers looking for cheap parking. The airport offers a variety of parking options to fit any budget. In addition, parking fees start at just $8 per day. Whether you're looking for long-term or short-term parking, OAK has you covered. However, remember that Oakland airport's long-term parking is relatively more expensive than its short-term equivalent.
Prices are correct at the time of writing (July 2022).
Lowest airport parking rates at Oakland International
Parking at Oakland airport is available in the Premier, Daily, Hourly, and Economy lots. Moreover, parking fees start at $4 per 30 minutes in the Premier lot, $5 for every hour Hourly, and $24 daily in the Daily lot.
OAK offers short-term parking fees. These include Hourly and Daily Parking. The Hourly Parking rate is $1 for 12 minutes each, and the Daily Parking rate is $5 hourly. What's more, there are off-airport options providing parking near Oakland airport.
There are many Oakland international airport parking options available, and the prices are very competitive. Frequently, off-site charges are as low as $8 per day. Costs vary depending on the length of stay, but all options are reasonable prices.
During the high season (July - September) parking prices tend to be higher due to high demand.
Oakland International airport's cheap long-term parking
Parking in the long-term lot is convenient for travelers who are going on extended trips. Furthermore, the long-term parking at the airport can be found just a short shuttle ride from the terminals. The long-term parking lot offers a daily rate of $24, according to the official website. Oakland airport's daily parking is cheaper compared to other airports. OAK also offers a free Park and Call lot for travelers.
On-airport Economy parking with shuttle
Oakland airport economy parking comes with a free bus service. This is a great option to save money on parking.
| Daily rate | From |
| --- | --- |
| 3 days | $54.00 |
| 8 days | $144.00 |
| 15 days | $270.00 |
Off-airport Long Term Parking with shuttle
Remember, Oakland airport day parking is also affordable. There is a free shuttle that takes you to the airport terminal.
| Daily rate | From |
| --- | --- |
| 3 days | $32.85 - |
| 8 days | $87.60 - |
| 15 days | $164.25 - |
Off-Airport Long Term Parking with valet and shuttle
Oakland Airport parking rates are $8 per day. Moreover, the parking provider helps park your car for you.
| Daily rate | From |
| --- | --- |
| 3 days | Coming soon |
| 8 days | Coming soon |
| 15 days | Coming soon |
Off-Airport Long Term Hotel parking
At many hotels near the airport, off-airport long-term parking is available. Naturally, these hotels, such as Red Lion Hotels, offer parking at a discounted rate for guests staying at their facility. Obviously, daily parking at Oakland airport is also available at the airport itself, but the rates are much higher. Lastly, a free shuttle to and from the airport is available.
| Daily rate | From |
| --- | --- |
| 3 days | Coming soon |
| 8 days | Coming soon |
| 15 days | Coming soon |
Oakland International airport affordable short-term parking
Short-term parking is in front of the terminal entrance. The airport's terminals are Terminal 1 and Terminal 2, and both offer short-term parking. Oakland airport parking cost varies depending on the terminal. Prices for short-term parking at OAK are $5 per hour, and $4 for every half an hour. The Premier lot charges a maximum of $38 per day.
| | |
| --- | --- |
| First 30 minutes | $3.00 to $5.00 |
| Each additional 30 minutes | - |
| Daily rates | $34.00 |
Oakland International airport smart parking tips
When it comes to airport parking, there are a few things you should keep in mind when at FastTrack airport parking in Oakland. Read the following tips and Oakland International Airport parking reviews from our clients. Looking for the best routes to get to the airport parking? Please see our travel directions.
Restricted mobility parking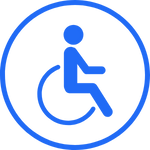 If you have restricted mobility and require special assistance, there are a few things you should know about parking at the airport. Crucially, there are discounts available for disabled people, at $5 when you reserve parking. Amenities such as valet service are available for free.
Cell Phone Lots (drop-off & pick-up) at Oakland International airport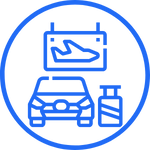 Oakland International Airport has Cell Phone Lots where drivers can wait for free for up to 30 minutes. It is located on John Glenn Drive. The Cell Phone Lot is about a mile from the terminals. Remember, the park and call lot is for waiting only — no parking or idling.
Electric Vehicle Charging Stations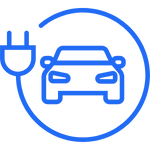 Oakland International Airport has charging stations for EVs in all of its parking garages. The charging stations are in the Daily Parking Lot in both Terminals 1 and 2. Notably, the cost to use these charging stations is $4 per hour.
Parkos is the leading provider of airport parking in the USA. With convenient costs, it provides security for its clients.
Parking providers at Oakland International Airport
Our benefits
All parking facilities are carefully inspected
The best deals on airport parking
Free cancellation up until 24 hours
4M+ customers globally