Best parking at Dallas Love Field Airport
Dallas Love Field (DAL) Airport is located 6 miles from downtown Dallas. The airport covers an area of 1,300 acres and is home to Southwest Airlines. Nearby airports include Tyler Pounds Airport (TYR) and Dallas Fort Worth International Airport (DFW). Dallas Love Field parking offers numerous parking options. Aside from parking at Dallas Love Field garages, Parkos offers the cheapest off-airport parking options.
Off-airport parking sites offer cheap parking at Dallas Love Field Airport. Parking rates start at $3.5 per day up to a maximum of $7.99 per day. On-airport parking options are also available, starting from $10. Dallas Love Field's long-term parking is an affordable parking option. Parkos offers a list of different parking options for you to choose from.
Prices are correct at the time of writing (July 2022).
Find the best Dallas Love Field airport parking rates
On-airport parking options are available within garages A, B, and C. Dallas Love Field Airport parking rates start at a daily rate of $10. Different charges depend on the type of garage, roof covers, and level.
Short-term parking is free for the first half hour in garages A and B and free for the first hour in garage C. Hourly charges at Dallas Love Field parking garage B start at $3 for more than 30 minutes.
Long-term parking at Dallas Love Field at on-airport parking lots is an affordable option for travelers looking to stay longer. On-airport parking lots have rates starting at $10 but will vary between different garages.
During the high season (July - September) parking prices tend to be higher due to high demand.
Dallas Love Field airport cheap long-term parking
You can compare long-term parking options at DAL with off-site parking to secure the best deal. Parkos offers an ideal platform to compare parking lot rates at DAL. Cheap parking Dallas Love Field is available on off-airport parking options listed on Parkos, starting at $3.5 per day. On-site parking prices are retrieved from Dallas Love Field Airport's official website.
On-airport Cheap Economy parking with shuttle
Dallas Love Field parking rates with free shuttle service start at a daily rate of $10 up to $28.
| Daily rate | From |
| --- | --- |
| 3 days | $30.00 |
| 8 days | $80.00 |
| 15 days | $150.00 |
Off-airport Cheap Long Term Parking with shuttle
For self-parking, Dallas Love Field rates start at $3.5 per day. There is a free shuttle to the airport.
| Daily rate | From |
| --- | --- |
| 3 days | $10.50 - |
| 8 days | $28.00 - |
| 15 days | $52.50 - |
Off-airport Cheap Long Term Parking with valet and shuttle
With valet parking, the parking provider will park your car. A free shuttle will also take you to the airport.
| Daily rate | From |
| --- | --- |
| 3 days | Coming Soon |
| 8 days | Coming Soon |
| 15 days | Coming Soon |
Off-airport Cheap Long Term Hotel parking
Several hotels and motels near Dallas Love Field Airport offer convenient and affordable parking options. Nearby options include Ramada by Wyndham and Embassy Suites Dallas Love Field Hotel. These offer safe and secure hotel parking at rates starting at $4.99. The hotels also have various amenities such as free WI-FI, snack shops, and washrooms. A free shuttle is available around the clock.
| Daily rate | From |
| --- | --- |
| 3 days | Coming Soon |
| 8 days | Coming Soon |
| 15 days | Coming Soon |
Dallas Love Field airport cheap short-term parking
Short-term parking is available in all three garages. The parking garages are located adjacent to the terminals. For the first 30 minutes, parking is free in all the garages. Hourly rates starting from $3 apply once the thirty minutes have elapsed. Short-term parking rates can go up to $10 depending on the garage chosen and whether roofs are covered or uncovered.
| | |
| --- | --- |
| First 30 minutes | Free |
| Each additional 30 minutes | - |
| Daily rates | $13.00 |
Dallas Love Field airport Smart parking tips
Do you have an electric vehicle that needs charging? Need to pick up somebody or have restricted mobility? Please see the following tips, and don't forget to read Dallas Love Field Airport parking reviews from our customers. Looking for the best routes to get to the airport parking? Please see our travel directions.
Restricted mobility parking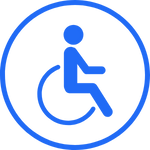 The airport offers complimentary garage parking, excluding valet, and premium parking for people with restricted mobility. The vehicles must display the disabled parking permit on their cars in the lot. All the other lots and shuttles are ADA-compliant.
Cell Phone Lots (drop-off & pick-up) at Dallas Love Field airport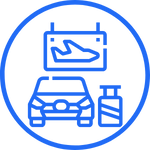 The primary cell phone waiting lot is located on the NE Corner of Hawes & Herb Kelleher. The airport also has an additional cell lot north of the Spirit of Flight Plaza off Contrail Lane. The maximum waiting period for this parking spot is 60 minutes.
Electric Vehicle Charging Stations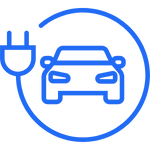 As yet, Dallas Love Field Airport has no electric vehicle charging stations. However, visitors can always utilize numerous charging stations in the state. Several stations offer free charging services, while the rest have level 2 and 3 charging ports.
Parkos offers you the most reliable off-airport parking options in the USA.
Frequently Asked Questions
How does Shuttle parking work at Dallas Love Field airport?

Our Park and Fly service at Dallas Love Field airport is simple. Here at Parkos, we provide you with an off-site parking solution. Although Love Field airport has its own parking lots, they are very expensive. Therefore, we have found the perfect solution for you. When you make your booking, select one of our off-site parking lots and book our free shuttle service. Once you have completed your booking, we will provide you with all the shuttle times. Our free Dallas Love Field shuttle service ensures you reach the airport terminal in time for your flight. All shuttles take customers straight from their cars to the airport and vice versa. Therefore, there is no walking in between. Also, when the shuttle drops you off at your car, they will give you plenty of time to load up your vehicle. Should you require help with your luggage, the staff will go out of their way to assist you. The shuttle also operates 24 hours a day, 365 days a year.

Behind our Park and Fly free shuttle service at Dallas Love Field airport, there is a comprehensive system designed to make your trip to the airport as smooth as possible. You'll be sure to get from your car to your plane on time. Indeed, if you are looking for cheap parking, you'll find it here. The airport charges start from as little as $5 per day—a fraction of other airport parking lots. But convenience isn't just about the price; it is also about time. Our free shuttle service won't make you wait until the last minute to park. That means you can arrive any time and find a spot waiting for you. Plus, our DAL Dallas airport shuttle buses will take you right to your terminal. Our drivers know exactly which terminal you need to leave and will drop you off at the entrance. Also, you won't have to worry about making it through security either. The airport takes care of that for you, too. In fact, the shuttle service comes with TSA pre-check lanes.

Traffic information

Dallas Love Field is approximately 2.5 miles from downtown Dallas, about a 10-minute drive. The best way to reach the airport is by taking Interstate 35E to Mockingbird Lane and then head west to Herb Kelleher Way (the entrance road). You can reach the airport from two other highways: US 75 and Northwest Highway. Both are just north of I35E, and will lead you to Mockingbird Lane. To reach US 75, take the I35E north. Then proceed towards Northwest Highway and take the I35E south. From either of these roads, turn west on Mockingbird Lane and continue to the airport. If you require more information regarding flight times at Dallas Love Field, you can check the FAA's website at Fly.FAA.gov (search for DFW). Love Field has a free cell phone service where motorists can call when they are ready to be picked-up. Drivers should enter the lot from Mockingbird Lane near Herb Kelleher Way or Cedar Springs Road between Maple Avenue and Douglas Avenue.

How does Valet Parking work at Dallas Love Field?

Our mission at Parkos Dallas Love Field parking is to make parking stress-free. We are a comparing platform of parking spaces close to airports and provide you with cheaper parking lots with excellent services. Valet parking Dallas Love Field option will make your journey easier, as one of our trusted drivers will meet you, and park your car for you.

We take the time to learn everything there is to know about your valet parking requirements. You will receive a plan that is completely unique to your needs once you book your parking. Simply inquire about any additional services you may require, such as car wash and so on.

Continue your journey

A trustworthy valet staff member will be waiting for you at your gate on the day of your departure. Simply drive to the parking lot and a trusted valet staff member will take care of the rest. They will drive your car to a secure parking lot and take care of it until you return.

In regard to airport parking reservations, there are several options. Once you book valet service, you will receive a confirmation email with directions and details. Also, Parkos can assist you in searching and comparing available valet service for the entire trip. This ensures that you always reserve the best long-term and short-term parking for the lowest price.

On return

Contact us as soon as you arrive at the airport. A driver will take your car to the agreed-upon area at arrivals or departures and meet you there as soon as they know your plane has landed. Once you reach your car, the providers will inspect the vehicle for damage with you, and you'll be ready to continue your journey home soon after.

Advantages and disadvantages

Choosing valet parking offers an array of benefits and can assist you with more than parking your vehicle. However, although we provide excellent services, there are also some drawbacks that you must be aware of. So, let's look at the pros and cons of using a valet parking service.

Advantages

Time efficiency. Parkos makes sure to provide parking spaces that may be reserved in advance for a set price. When you reserve your parking spot, you don't have to worry about finding a parking space, as we do that for you. There will be a space designated for you with one of our trusted providers.

Convenience. Our trusted parking lots provide travelers with ease, convenience, and suitability. It eliminates the stress that comes with slow and inefficient public transportation that can cause delays. Here at Parkos, we have plenty of parking options. So, whether you need long- or short-term parking, we have you covered.

Disadvantages

Trust. All our parking providers take pride in their work. As a result, your car will be parked in a safe area where it will not be damaged. They ensure top quality service, guaranteeing you'll find your car in the same condition as when you handed it over. Therefore, you can rest easy knowing your car is in safe hands.

Cost. The primary difference between valet service and traditional parking is when you are using valet parking, you do not have to spend time parking your car. Hence, valet service is considerably more expensive than airport car parks. So, before you book your airport parking space, consider all of your options. As a result, you can devise the most cost-effective travel strategy to meet your needs.
Our benefits
All parking facilities are carefully inspected
The best deals on airport parking
Free cancellation up until 24 hours
4M+ customers globally