LaGuardia Airport parking map
Cheapest parking at LaGuardia Airport
LGA Airport is New York City's third busiest airport. It is the sixteenth busiest airport in the United States, with millions of passengers using Laguardia airport parking each year. LGA is the airport code. It is located in East Elmhurst, Queens, about 10miles (16.09km) from East Manhattan. Furthermore, JFK Airport and Newark Airport are the closest airports.
The airport offers the long-term LGA parking rates listed below. Terminal-A parking — The nearest parking garage from terminal A of the airport. Terminal-B parking — The covered parking garage near terminal B. Terminal-C parking — It is nearest to terminal C of the airport. Moreover, you can also book premium space in terminal C parking in advance.
Prices are correct at the time of writing (July 2022).
Get the best LaGuardia airport parking rates
LaGuardia Airport parking rates depend on the short-term, and long-term options as well as the specific terminal parking you have selected. All three terminals provide both long- and short-term parking available for your convenience.
Terminal parking facilities charge between $39 and $45 per day for long-term parking whereas, for short-term parking, terminal A and terminal B charge $5/30 minutes up to $39. Terminal C charges a $6 maximum of $45.
Lga short-term parking costs can be considered expensive, therefore off-airport parking may be a better alternative. Offers for off-site parking start at $8.50 per day and come with a complimentary shuttle service.
During the high season (July - September) parking prices tend to be higher due to high demand.
LaGuardia airport long-term parking
The cost of prepaid economy parking is $29 for 24 hours. Other parking options at LGA airport depend on whether you reserve parking in advance or pay at the gate, parking fees range from $39 to $70 per day. LaGuardia Airport's long-term parking will cost you $2.65 per day. Terminal-A parking does not accept payments made with cash or EZ-Pass Plus.
On-airport Economy parking with shuttle
Cheap parking near LaGuardia airport should be considered when on a budget. The free bus shuttle is an added advantage.
| Daily rate | From |
| --- | --- |
| 3 days | $54.00 |
| 8 days | $144.00 |
| 15 days | $270.00 |
Off-airport Long Term Parking with shuttle
The best way to parking near LaGuardia Airport cheap is through off-airport parking which also provides a free shuttle service.
| Daily rate | From |
| --- | --- |
| 3 days | Coming soon |
| 8 days | Coming soon |
| 15 days | Coming soon |
Off-airport Long Term Parking with valet and shuttle
During long-term parking at LaGuardia Airport, the valet parks for you and the shuttle takes you to the airport.
| Daily rate | From |
| --- | --- |
| 3 days | $29.85 - |
| 8 days | $79.60 - |
| 15 days | $149.25 - |
Off-airport Long Term Hotel parking
There are many hotels near LaGuardia Airport that offer parking and free shuttle services to customers. For example the Airway Inn, Hampton Inn New York, and Comfort Inn and Suites. The $20 is the cheapest parking LaGuardia Airport rate per day. Moreover, off-airport parking facilities are less expensive and cost you starting from $7.5 per day.
| Daily rate | From |
| --- | --- |
| 3 days | Coming soon |
| 8 days | Coming soon |
| 15 days | Coming soon |
LaGuardia airport short-term parking
Different options for LaGuardia Airport parking prices are available. For up to three hours, parking at terminals A and B costs $5 each half-hour; beyond, it costs $10 per half-hour. Whereas the rate for terminal C is $6 for each half-hour up to three hours then it will be $12. Additionally, the fee for using an accessible parking space is $4 for every half-hour.
| | |
| --- | --- |
| First 30 minutes | $5.00 |
| Each additional 30 minutes | $5.00 |
| Daily rates | $39.00 |
LaGuardia airport smart parking tips
Do you want to check on the parking availability or book a parking space? Would you want to learn more about the available car services? Please read the tips on airport parking reviews and LaGuardia Airport parking reviews on our website.
Restricted mobility parking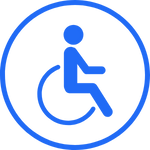 People with restricted mobility have their parking spots, but you must provide visible disability license plates or a legal permit. You get a ticket at the entrance, ask for a discount by pushing the help button, and an employee at the exit issues the discount.
Cell Phone Lots (drop-off & pick-up) at LaGuardia airport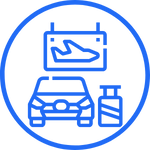 Cell Phone Lot is located between 23rd Avenue and Ditmars Boulevard on 94th Street, a short distance from the airport. The lot is accessible to the public every week from 7:00 am to midnight. The recommendation is for drivers to never get out of their cars.
Electric Vehicle Charging Stations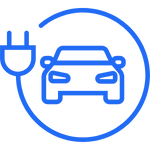 Ten EV charging outlets are found on the third floor of Terminal B Parking and the second floor of Terminal C parking. You use a credit card with RFID technology or a Chargepoint access card to enter the station and the electricity provided is unrestricted.
Parkos ensures customers get quality services in parking all over by personally inspecting parking lots and garages before listing them.
LaGuardia Airport parking map
Parking providers at LaGuardia Airport
Our benefits
All parking facilities are carefully inspected
The best deals on airport parking
Free cancellation up until 24 hours
3M+ customers globally