SeaTac Airport Parking Guide
Making travel plans can be stressful as you navigate through the airport. That's why we created our airport parking guides to help you findd parking rates, airport terminal parking information, food and shopping options, Airport FAQs, local hotels, and directions to the airport.
SeaTac Airport Parking Rates
| | |
| --- | --- |
| Parking Options | Seatac Parking Rates |
| Long Term | $3/hour, max $15 per day |
| Short Term | $3/hour, max $36 per day |
| Curbside Valet | $25 per day |
| Overflow | $10 per day |
SeaTac Airport daily rates begin at $32 per day for general parking. The general parking area is only available on floors 1-3 and 5-8 in the parking garage. If you want closer parking, SeaTac has terminal direct parking for $39 per day, located on the 4th floor. SeaTac Airport only has one parking garage, which means fewer parking options and spaces for travelers. Nobody wants to spend their time driving around the garage searching for an available space and risk being late for their flight.
Compare all Seattle airport parking providers
That's why we created Parkos! At Parkos, we want to offer customers a better way to park and travel. We work with off-site airport parking operators and hotels to offer stress-free, affordable parking options. You can find park, sleep, & fly packages as well as short term and long term parking. Some of our current partners include Sleep Inn SeaTac Airport, Comfort Inn, and SeaTac Crest Motor Inn. For the Sleep Inn and Comfort Inn, customers can choose between two different room types to fit their needs. When you book with our partners via Parkos, you can expect free shuttle rides to and from SeaTac, secure parking lots, luggage assistance, and many more amenities. Reserve your guaranteed SeaTac Airport Parking today on Parkos.com!
Seattle-Tacoma Terminal Information
SeaTac has three terminal buildings; the main terminal and two satellite terminal buildings, North and South. The North and South Satellite terminals are connected to the main terminal through an underground transportation system, to help passengers move easily between the buildings.
Aer Lingus, Air Canada, American Airlines, Frontier Airlines, Japan Airlines, JetBlue Airways, Southwest Airlines, and United Airlines
The North Satellite Terminal doesn't have any fixed airline that departs from the N Gates.
In the South Satellite Terminal, travelers can find AeroMexico, Air France, ANA (All Nippon Airways, Asiana Airlines, British Airways, Cathay Pacific, Condor, Emirates, EVA Air, Hainan Airlines, Hawaiian Airlines, Icelandair, Korean Air, Lufthansa, Norwegian, Singapore Airlines, Virgin Atlantic, and Volaris
SeaTac International has a few airlines that have no set terminal building. Travelers can find their departing terminal printed on their boarding pass for airlines such as Alaska Airlines, Delta Airlines, Spirit Airlines, and Sun Country Airlines
Getting to Seattle-Tacoma International Airport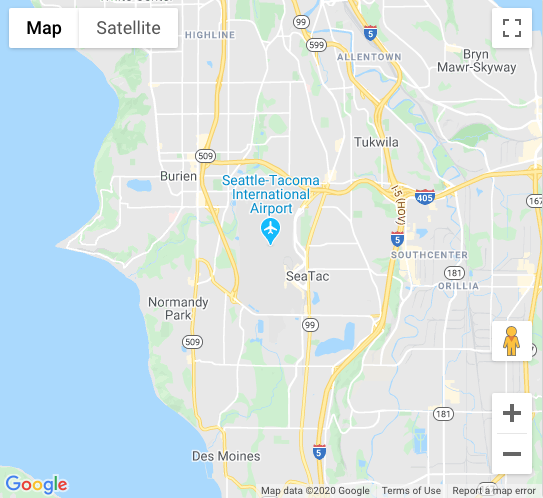 SeaTac is located at 17801 International Blvd, Seattle, WA 98158. Travelers who need directions can use our free route planner to find your way to the airport.
Coming from the North via Interstate-5?
Take Interstate-5 to exit 154 B and drive west on State Route 518 to the SeaTac International Airport exit.
Coming from the North via State Highway 99?
Take 99 south. At the First Avenue Bridge stay right and follow State Route 509 south to State Route 518 exit [Burien, Sea-Tac Airport]. Turn left onto 518 and take the SeaTac International Airport exit.
Coming from the South?
Take Interstate-5 to exit 154 and drive west on State Route 518 to the SeaTac International Airport exit.
Coming from the East?
Take Interstate-405, which turns into State Route 518, to the SeaTac International Airport exit.
Airport FAQS
Here you can find the most frequently asked questions from travelers flying out of SeaTac International Airport.
Seattle Airport has 5 checkpoints for travelers to go through after checking in and dropping off their luggage. Most of the checkpoints are open from 4 AM to 11 PM (checkpoints 2, 4, and 5) with areas 2 and 5 able to accommodate all passengers, whereas area 4 is only for CLEAR and TSA Pre-Check travelers. Checkpoint 1, also for CLEAR and TSA Pre-Check only, is open from 4 AM to 4 PM. Checkpoint 3 is available 24 hours a day for General Screening, and from 4 AM to 10 PM for the CLEAR and TSA Pre-Check travelers.
All travelers must have a boarding pass and a photo ID. Starting October 1, 2020, domestic travelers will be required to carry a Real ID. Passengers with an international flight must provide a passport.
For domestic flights, travelers should plan to arrive between 1.5 to 2 hours before your flight to check-in, drop off your bags, and get through security. For those with international flights, it is recommended that you arrive 2.5 to 3 hours before your flight's departure time.